This Mascara Tricked Everyone Into Thinking I Had Lash Extensions
Ivan Lattuada/IMAXtree.com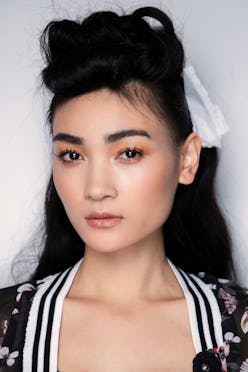 Throughout my time as a beauty editor, I've been through more tubes of mascara than you could imagine. One of the best parts of my job is being fortunate enough to share my opinions on products with TZR readers in hopes they'll give the good ones a shot. I have to admit, there's rarely been a tube of mascara my eyelashes haven't loved. A few weeks ago, a colleague pointed out that my lashes looked extra long and wondered if I'd gotten extensions—I hadn't.
Throughout the day, I was bombarded with more questions about my mascara and asked if I was wearing falsies. The truth is, I'd just decided to test out a product that had landed on my desk (as that's the nature of my job). The mascara in question was Tarte's Gifted Amazonian Clay Smart Mascara, which comes in wooden-like packaging with the brand's signature purple logo emblazoned across the front. I did love it, but it wasn't until I heard other people's comments that I realized, Whoa, my lashes look a lot longer. It was a length I hadn't achieved with other formulas. I thought to myself: I've found my true match.
Right now, I'm wearing it every day for both work and play. If you're looking to improve the length and lift of your own flutter, shop my pick below along with a few other cult-favorite formulas.
Best Lengthening Mascaras