How To Style A Coatigan, The Cozy Piece I'm Living In This Winter
Edward Berthelot / Contributor / Getty Images Europe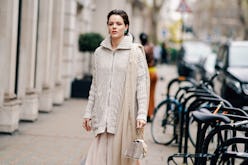 The only word that accurately describes my style between the months of October and March is "cozy." If an outfit doesn't look like it could double as nap attire, I'm not wearing it. As someone who works from home, that's honestly not much of a problem in my day to day. But when a meeting or night out presents itself, I do have to find ways to make my warm, comfortable ensembles look a little more polished. Enter: the cardigan coat, an easy-to-style piece (often referred to as a coatigan) that ensures I always remain comfortable, but still adds laidback polish to every 'fit.
The beauty of this piece is that it works for nearly every occasion, despite the fact that it often resembles a robe (though that's precisely why I love it). Have a full schedule of lounging? Throw one on with knit pants and call it a day. Have a date night planned? Layer it over a deep-V body suit and add heels to dress it up. And yes, you can even wear it to work — just be sure to pair it with tailored clothing to avoid looking like you showed up in pajamas (unless, of course, that's acceptable in your office).
There's no shame in embracing the cozier side of your wardrobe when temperatures drop, you just have to know how best to style your softest pieces. Ahead, three coatigan outfits I'll be wearing that prove just how easy that is to do.
Lounging Look
Though some of the most beautiful coatigans cost thousands of dollars, I've found that Uniqlo's ridiculously affordable options are just as comfortable and stylish as more luxurious alternatives (in fact, I own three). This hooded piece from the brand will be especially cozy paired with knit pants and a soft, loose tee. If necessary, you can also layer with a heavier down or leather coat to keep chill at bay.
Date Night
Maybe a big, oversized sweater isn't your immediate go-to for dates, but honestly, what better time to be cozy than a night out with your significant other? To make it work, wear the coatigan open and balance out its chunkiness with a sleek, deep V-neck top and pointy-toe heels. It also pairs well with a dress or skirt with a hem of a similar length. You can add tights if it's extra chilly, or keep it simple and just style with boots.
Work
Thanks to the coatigan, you'll never need to keep a big blanket at your desk again, even if your office's thermostat tends towards chilly. Opt for a long, elegant piece like Lauren Manoogian's Chunky Robe Coat, and pair it with polished clothing like tailored pants and a button-down shirt to ensure it doesn't look like you're *actually* wearing a robe (though, thankfully, it'll probably still feel like you are).