Summer Knitwear Has Officially Taken Over My Saved Folder On Instagram
Fiorella Pratto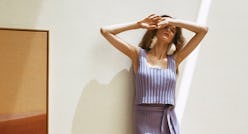 My Instagram saved folder is always a really good indicator of what I'm obsessed with at the moment. And since it's a culmination of things I've been adding for months, it's also often the place I look for trends that are unknowingly budding right under my nose. This season, it happens to be knitwear for summer. And now that I've realized that, I can't get enough.
It's not that lightweight knits are anything new — it's just that in 2019, they've taken on an Insta-worthy nature that's becoming increasingly hard to resist. And I'm not the only one who's obsessed. I've seen multiple editors post about buying Aritzia's perfect knit tank tops in a variety of colors (can you blame them?) and brand-new knitwear label YanYan popping up on my feed constantly starting mere days after it launched.
At this point, I've fully bought into the trend. There's not a linen or cotton fabric to be found in my saved folder anymore — it's all crochet crop tops and funky ribbed pants, and probably will be for the foreseeable future.
IMHO, it's actually superior to typical summer fabrics. Summer knitwear reimagines your favorite fall staple in the form of a drape-y, vacation-ready piece. It hangs beautifully, sometimes allowing for a little breeze, and looks unexpected thanks to its inherent juxtaposition.
Most importantly, it's easy to style. If there's one word that describes knitwear, it's "effortless," which means that you can throw on any piece with anything and the outfit will look like it was meant to be. A knit skirt? Add a t-shirt and sandals. A sweater tank? Throw it on with Bermuda shorts and sneakers. Essentially, you can rely on it for a foolproof way to put together an outfit that'll make your friends jealous without trying.
Which explains why I'm obsessed — and why you're probably about to be, too. Ahead, check out 10 of the pieces that have flooded my Instagram saved folder as of late.