Why The Cardigan Trend Deserves A Spot In Your Wardrobe This Spring
Autumn Cashmere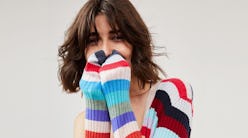 It's true that cardigans were once thought of as outdated and boring, but the sweater surprised everyone by making a surprisingly chic comeback. It made its first waves this past fall, but with the arrival of the new year and spring on the horizon, it's picking up even more steam, cementing itself as a staple for the upcoming season. Luckily, that gives you all the more reason to jump in on 2019's cardigan trend and add a few of the newest styles to your closet.
Layering obviously plays an important part in getting dressed come spring, making the cardigan a lifesaver thanks to its versatile nature. Given the season's unpredictability and fluctuating temperatures, there's no piece that's more ideal than the humble cardigan to take your look from morning to evening seamlessly — just throw it on in the morning to stay cozy, and wrap it around your shoulders or waist when it warms up during the afternoon.
Love this season's beige trend? There are plenty of cool styles featuring the shade, from fitted, ribbed knits to cozy, chunky silhouettes. Take this ivory cable cardi from Mango, which is currently on sale for under $50; it's an easy buy for now that'll be so easy to throw on over those pretty spring dresses you're dying to break out of your closet. Other standout options, like Reformation's tan cashmere cardigan and a white boxy sweater from Rejina Pyo, will allow you to easily transition your cardigan from sweater to shirt à la Margot Robbie and Bella Hadid.
Color-inclined shoppers will gravitate toward the bold brights of a multi-striped ribbed cardigan from Autumn Cashmere for $335. Or, they'll be interested in scooping up a cropped cardi from Topshop in a poppy shade of pink, a color that'll fit right in with the rest of the bright colors having a moment.
Still can't get enough animal print pieces? Snag this leopard cardigan from J.Crew for $128; its longer silhouette and playful print will keep your look elevated and eye-catching. Match the sweater up with a bright yellow top to give it a sartorial spin, or add the knit to a monochromatic look to let the piece shine on its own.
Don't wait any longer to take part in the comeback of this nostalgic sweater style; continue on to browse some of the best cardigans to shop right now.