9 Date-Night Outfits You'll Feel So Confident Wearing This Fall
@saniaclausdemina On Instagram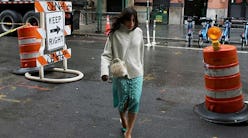 The older you get, the more you probably realize your wardrobe need not consist of one-purpose pieces. There doesn't have to be a section of your closet solely for the office, another for weekend errands, a third for fall date-night outfits. Rather, your closet is best off when you've invested in a healthy assortment of classic, versatile staples along with a few fun items thrown into the mix that make you feel confident and happy. Combined, these timeless pieces and trendy separates can be arranged into different outfit formulas that adapt to different life scenarios. Think of the plain white tee. This unassuming piece can be styled with a suit and sleek heels and suddenly be 9-to-5 appropriate. Just as easily, you can top off your favorite jeans and boots with the aforementioned white t-shirt and your Saturday brunch look is set.
Now that fall is here, it's time to consider how to make this mix work for a new season that requires more cool-weather staples and covering up. Date nights and evenings out usually entail wearing something on the lighter side; slip dresses, camisoles, breezy fabrics. However, there's no enjoyment in enduring goosebumps while on a date potential partner (except for the anticipatory type), which means a fresh crop of outfit ideas is in order.
For fall nights on the town, imaginative layering ideas and brand new textures feel aligned with the change in season, while still seeming in line with the outing at hand. Ahead, see nine fall date night looks you can easily try out in the months to come and if one particularly piques your interest, shop the pick.
Midi Dress + Mini Bag
You've no doubt seen the micro-bag trend take hold in recent months and truly what better scenario for it to make an appearance than date night? You don't need a bigger purse for essentials like your laptop and it feels unfussy and carefree.
A Little Bit of Leather
Obviously fall is a great time to break out your leather (faux, if you please) and if styled alongside a v-neck sweater and your favorite heels, it can prove to be a reliable date night look. Swipe on some lipstick and gold jewelry for a polished finish.
Slip It To Me
The slip dress is a date night MVP, however when it's cold outside it's often not enough fabric to keep you comfortable. The solution? Layering. Wear your dress with a fitted turtleneck underneath and slide into some fun heels for a functional, fun outfit to wear after hours.
Soft Sweater + Statement Skirt
A sweater and playful skirt combination is a duo you should always have hanging around in your closet. Together, the two strike the perfect balance between laid-back effortlessness and intrigue.
Party Pants, Please
If feather-bedecked skirts and slinky slip dresses are out of your wheelhouse, then consider a pair of statement trousers to wear in their place. They feel more considered than your everyday blue jeans but still pared-down and cool.
A Cutout Moment
If showing off a flash of skin is up your alley, try a top or dress with long sleeves and a simple cut out to get the job done. To try something unexpected, wear a statement necklace and let it peek through.
Outerwear Is In
Instead of reaching for your trench coat or leather moto jacket, consider an unexpected outerwear piece, like a leather coat or blazer. It'll feel entirely part of the look (especially if you wear it over a romantic dress).
Sleek Sweater + Statement Accessories
Date night doesn't have to mean you're dressed in a going-out top — you can wear a sweater and still feel polished. Go for a wrap silhouette or even a v-neck and wear with some fun slacks and heels.
The Dress That Packs a Punch
Everyone deserves to own a dress that once it goes on your body you instantly feel fantastic. This season, try Nanushka's pink wrap dress — it's a winner, as illustrated above.