The Often-Overlooked Decor Piece You Need To Invest In Now
Demkat/Shutterstock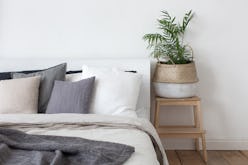 With so many people watching their wallets these days (particularly if creating a budget was on your list of New Year's resolutions), it never hurts to try and save a little cash when possible — which is probably why everyone loves a product that can multitask. From investing wardrobe staples you can wear a multitude of ways to finding home decor pieces that work double duty as both form and function, getting more bang for your buck is something everyone can appreciate. And if the latter is something you're seeking, learning how to utilize baskets for storage and decor is something you should start thinking about now.
Besides their value as a chic home accessory that both minimalists and eclectic design enthusiasts alike can seamlessly add to their decor, baskets can help you get organized by giving you a stylish place to store your stuff. What's more, many baskets on the market are sourced by retailers that offer fair trade artisan goods, so it's easy to find ethical options. They're also available at a ton of price points, which means styling your home with baskets can be a totally affordable solution.
If that's reason enough for you to start considering how baskets can fit into your space, you might benefit from a few tips on how to make the most of them, which is something Shannon Wollack and Brittany Zwickl of Los Angeles-based design firm Studio Life.Style know a bit about. Ahead, find the designers' advice for the most stylish and functional ways to put them into use ASAP.
Two Is Better Than One
"Don't be afraid to double up," suggests Wollack. "Buying multiple of the same rectangular bins and putting them on a shelf makes a space look cohesive and organized." This way, you can keep things out of the way, but you're also making your storage into a visual element — rather than hiding it all out of sight.
Add Some Greenery
Baskets can also be a clever way to show off your plant babies. "We love adding greenery to a space for a natural, fresh aesthetic," says Zwickl. "Small hanging baskets are perfect for housing air plants because they do not require soil, making them an easy way to add a bohemian feel to a room."
And if it's a bigger indoor plant that needs some extra attention, a basket is great way to disguise a less-than-chic planter. "A thick, woven basket is the perfect home for a cactus or fig tree," adds Wollack. Pro tip: Make sure your plants stay well-drained in their planter, so the water won't leak out and rot your basket.
Put A Lid On It
While some items, like beautifully folded blankets and towels, deserve to still be seen while stashed away, some things in your home aren't so pretty to look at (like your dirty laundry, for example). And for those things, a lidded basket is a perfect way to disguise them. "Consider a rectangle one in the family room for your remotes, chargers, and chords, and a tall circular one in the bathroom for toiletries," offers Zwickl.
Try A Tray
Get your Marie Kondo on and arrange miscellaneous objects in a flat, basket tray. "A basket tray is the perfect addition to a tabletop, ottoman, or kitchen counter," explains Wollack. "It's a nice accent that makes your miscellaneous items look styled and together."
Show Your True Colors
When you think of baskets, you might instantly conjure up a sea of beige — but it doesn't have to be that way. Use colorful baskets as a means of injecting a little more flair into an otherwise minimal space. Or, get crafty and paint your own!