Glow Recipe Has A New Version Of Your Favorite Avocado Mask — Here's Why You Should Try It
Courtesy of Glow Recipe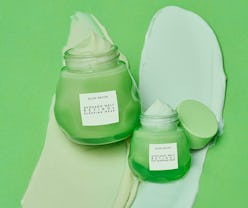 The beauty industry may seek to make everyone look and feel their best, but that doesn't mean it's not cutthroat. In fact, it's a hyper-competitive world in which a technique or product may be universally relied on one day, then out the door the day after in favor of the next big thing. One such ingredient that's been receiving some pushback of late is retinol. Beloved for its skin-perfecting powers, it's also known for making sensitive skin prone to irritation and redness, which is why many brands have been serving up retinol alternatives to smooth skin instead. But it's not time to forget the long-time skin care savior — Glow Recipe's Avocado Melt Retinol Sleeping Mask is proof that it's here to stay.
Read more: How To Use A Sleeping Mask For Clearer Skin In The Morning
While fellow clean beauty brands have been busy concocting gentle yet effective alternatives to retinol, Glow Recipe has been cooking up something to help the complexion refining ingredient's cause. The Avocado Melt Retinol Family is the latest launch to join the fruit-powered skin care lineup, and it's packing two pretty new additions that'll help you wake up to more perfect skin. And unlike many traditional retinol products, these Aug. 8 drops promise to keep your skin in check without wreaking havoc (in fact, you can expect quite the opposite from these moisture-boosting buys).
Glow Recipe's fresh Avocado Melt Retinol Sleeping Mask, $49, isn't totally new — you'll note it bears a striking resemblance to the brand's original Avocado Melt overnight mask — but it does include a very enticing update to make it well worth trying. In addition to creamy, hydrating avocado, which is rich in oleic acid and linoleic acid to fight inflammation and lock in long-lasting moisture, the new Avocado Melt Retinol Sleeping Mask includes a potent, but hyper-gentle dose of vegan encapsulated retinol.
This stable, time-released variety of retinol works throughout the night to effectively trigger cell turnover without causing sensitivity, so you wake up to brighter, more even skin (not a dry, scaly complexion). Over time, it'll fade dark spots and increase collagen production, in turn reducing the appearance of fine lines and wrinkles on the face. Gentle PHA acid pairs well to further exfoliate away hyperpigmentation, while matcha, ginger, konjac, and chamomile soothe and rejuvenate stressed skin.
To amp up these skin-freshening effects around the eyes, Glow Recipe also introduced the Avocado Melt Retinol Eye Sleeping Mask, $42, as part of the new product line. Its goal is to make puffy, tired eyes a thing of the past with a naturally powerful combination of hydrating avocado, antioxidant-rich coffeeberry, and encapsulated retinol that softly works to cut down on dark circles and milia throughout the night as you sleep. Expect brighter, more awake looking eyes with each use.
Thanks to the much gentler delivery of retinol in Glow Recipe's products, they're suitable for all skin types — but if you're new to retinol, start out slow by using the overnight sleeping mask just a couple times a week before building up to nightly use. And don't forget your SPF (after all, you don't want to undo all the masks' hard work with more sun damage).
With these complexion-perfecting Glow Recipe launches it looks like retinol certainly won't be going anyway anytime soon, so snag them for yourself below.