The Simple Practice That Will Make Your Next Trip So Much More Sustainable
Claudia K/Shutterstock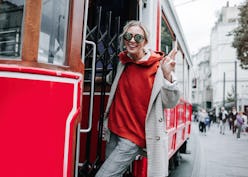 These days it's easier than ever to live a more conscious life. With brands and businesses embracing eco-friendly practices (eliminating packaging, using recycled or natural materials, and relocating their manufacturing to more local facilities, as a few examples), it's becoming more accessible to go green with all your practices, from your beauty routine to work commute. But one area you may not yet have considered is how to travel more sustainably. Thankfully, it's easier than you probably thought to make your next vacation so much less wasteful without having to shell out more cash or miss out on one ounce of luxury.
Certain industries are notorious for their carbon footprint, like fast fashion and meat, but travel can be unexpectedly wasteful, given the strain it can have on resources. From the transportation emissions to the energy used in some massive hotels, there's probably a lot you never considered when planning your trip — but it's not too late to start. With just a few simple switch-ups it's easy to be more mindful, and with that kind of consciousness you'll enjoy yourself in a whole new way.
Planning for your next getaway? With the ahead tips for finding resorts and making over your carry-on, this trip can be the most unforgettable and the most sustainable yet.
Drive Vs Fly — When You're Able
Especially when it comes to a last-minute getaway, consider traveling places that are accessible by car versus a plane. That said, for long distances, you'll actually save more energy by flying.
Research Your Hotel/Resort
While big hotels can be a huge strain on natural resources (electricity, water), some have adopted impressively sustainable practices. Wellness-focused resorts including Alaya Tulum and Alila Villas in Bali are great examples of exotic locales, but even chain hotels like 1Hotels, Fairmont, and Kimpton are going green with reclaimed materials, minimized use of natural resources, and restaurants that utilize locally sourced ingredients, to name a few factors. When in doubt, see if the hotel is LEED-certified.
...Or Rent A Home/Apartment Instead
Renting a home, apartment, or room with sites like Airbnb often saves more energy than a big hotel — plus there are so many chic (and sustainable) options for rent nowadays.
Pack Lighter
Packing light means less weight on your flight, so bring fewer and more versatile items. You can even make your carry-on itself a lot more sustainable by finding one made of eco-friendly materials, like this recycled polyester weekender from Everlane (that's also so much lighter than most hard-case ones).
Skip The Tiny Travel Bottles
Why waste money — and materials — buying tiny versions of your favorite beauty products? Instead, invest in some resilient and reusable ones that you can fill with your home stash. This set from Palette by Pak is so sleek and will take up little real estate in your bag.
Use Non-Toxic Products
While on the subject of your beauty products, you might want to research the toxicity of your faves — and swapping in cleaner options. A good place to start: Opt for mineral-based, reef-safe sunscreens if you'll be in the ocean (Hawaii even has a ban on chemical ones).
Explore The City On Foot, Bike, Or Using Public Transit
Unless you just won't be able to get around without a rental car, do all your sightseeing on foot, bike, or with the local pubic transit to minimize your carbon footprint.