5 Suitcase Packing Tips That Will Make Going Carry-On-Only Possible
Leszek Czerwonka/Shutterstock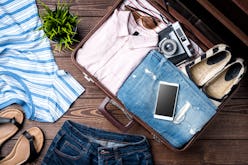 There are so many exciting aspects that go into traveling, from the careful plotting and planning of your impending adventures, to the impromptu moments that are inevitable when exploring a new place. There is, however, one thing that's significantly less enjoyable about the whole process — at least for most people — and that's figuring out what to pack. But if it's the most efficient and useful carry-on that's your goal, there are a handful of professional suitcase packing tips that can make this a lot less of a pain and your trip a lot more stress-free.
Packing the perfect carry-on is basically an art form. From knowing what accessories are essential (not overkill) to being able to find what you're looking for with ease, it takes some planning and effort to get it just right. After all, with all the common travel mistakes you could be making on your next trip, you have enough to worry about without your disorganized suitcase bringing you down.
As Head of Cleaning at on-demand task service app Handy, Bailey Carson has become a bonafide organizational expert, and lately she's been helping others Marie Kondo (yes, it's a verb now) their lives. That said, she's got plenty of tricks up her sleeve when it comes to preparing a truly functional carry-on for your next trip. So whether your next excursion involves a cruise ship, a cross-country road trip, or anything in between or beyond, you can in fact get there with one smartly packed piece of luggage. Just read ahead for Carson's advice on how to do it.
Divide And Conquer
If you've never used packing cubes to neatly divide your carry-on contents, you don't know what you're missing. "Packing cubes are often an inexpensive investment with a huge payout in terms of organization and space in that carry-on suitcase," Carson explains. And while you won't have a hard time finding plenty on the market, the organizational guru suggests you "find ones that match the size and shape of your suitcase" to make them as useful as possible.
Keep It Monochromatic
Now that you've got the organizing tools, the next part is knowing just what to bring. And for Carson's money, the best route to take is sticking to a limited color palette to make putting outfits together much easier. "Make sure all tops and sweaters can work with all bottom options and can work with just one to two pairs of shoes," she says. "Maximizing the outfit combinations and streamlining accessories will actually make it feel like you have packed more." This doesn't mean you necessarily have to go all-black if that's not really your thing — but think about packing neutrals that go with everything, like a versatile camel-colored leather bag, or classic white sneakers.
Bulk Up On The Way
Save room in your suitcase by wearing your bulkiest items (like a puffy jacket or knee-high boots) en route. "The minor inconvenience of taking [them] through the airport is well worth the space saving pay off in your suitcase," Carson mentions. "As an added bonus, bulky winter wear will keep you warm on the cold flights!"
Stick With Your Faves
Another way to ensure that you won't be struggling with "what the heck do I wear" syndrome throughout your trip is by stacking the deck (or in this case, the carry-on) with your favorite pieces, like those well-worn jeans that feel comfy and pair with everything. "If each item in your suitcase 'sparks joy,' the lack of options will not be missed," Carson explains. "Packing your favorites not only saves on space, but will make dressing easy while on the road."
BYOD (Bring Your Own Detergent)
Since you're traveling light, every piece matters — so being able to launder key pieces while you're away can be a game changer. "Whether a work trip or a weekend getaway, bringing a carry-on sized bottle of your laundry detergent can be a lifesaver, when short on space," Carson suggests. "Spill coffee on the only T-shirt you packed? No problem, nothing that a quick sink wash cannot handle. Also utilize the warm shower steam to help freshen clothes between wears."