Need To Change A Flight? Travel Pros Say This Is The Stress-Free Way To Do It
MagicalKrew/Shutterstock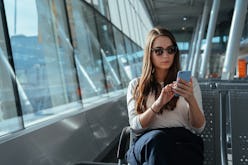 There's enough to worry about when planning for holiday festivities, which is why having a wrench thrown into your travel itinerary can seem like a huge hassle. Inclement weather and other unforeseeable circumstances can be the curve ball you never wanted (and certainly didn't ask for), but if it turns out that you do have to switch some things around, it's helpful to know how to reschedule a flight in a way that won't cause more of a headache.
Travel anxiety is real, especially when you're also thinking about all the other things that have to get done for you to get through the holidays smoothly. Have you packed everything you need (including everyone's gifts)? Made arrangements for housesitting/petsitting? Fulfilled all your work obligations before unplugging for a bit? With so much to think about, it's no wonder people are constantly in search of ways to make their trips as stress-free as possible. Thankfully, some of the top jet setters, luxury concierges, and other travel experts have some tried-and-true tips to make things as easy as possible — and that includes canceling and rescheduling your flight.
Along with other travel hacks, like the best jet-lag remedies, knowing which are the best airlines for your needs, and how to avoid common travel mistakes, swapping your flight can be no big deal, just ask Mona Molayem, travel influencer at Mona Corona and Chelsea Martin, luxury travel advisor at Full-Time Travel and affiliate of Embark. How do these experts do it seamlessly when they're in a jam? Read ahead and find their fool-proof, re-booking suggestions for holiday travel that's painless and won't leave you in debt.
Do Your Research
Molayem's first tip is most helpful if you haven't yet purchased your tickets. "If you know something could come up, the best thing to do is book a refundable fare," she says. While many airlines have a strict return policy, there are those that let you cancel and reschedule without a huge hit to your wallet.
The expert points out that while it may be an option to first arrange for a totally refundable flight, the next best option is one that only makes you pay the difference in fare (as opposed to buying a whole new ticket), like Southwest. This is why it's especially important to read the fine print when you're shopping different airlines.
According to Molayem, another reason to familiarize yourself with various policies before you book is that your airline might allow for cheaper changes made the day of your departure. "If you call in the morning of your flight, and want to change it to a later flight that same day, as long as there is room you may be able to change without penalty," she explains.
Strategize Your Credit Card
You've probably heard this one before, but it might just benefit you to have one special credit card set aside just for travel costs. Not only can this be a way for you to earn miles for future flights, but according to Molayem, it could help you out in a jam. "Consider getting trip insurance or a credit card that has trip insurance," she says. "This will allow you to alter your travel plans in some cases, such as if you are sick, but you'll need a doctor's note to prove it."
Don't Hesitate To Call In The Pros
If you're still in the planning stages, you might want to consider doing as Martin suggests and using travel advisor to book your flights — particularly if you're prone to travel mishaps or constantly overwhelmed with trip details. "Your travel advisor will be there to rebook you, have access to certain seats first, and take the stress out of the situation," she explains.
Double Down
And all hope is not lost if it's too late to consider any of the above pre-booking options. At least you can maximize your limited time (and therefore save yourself a bit of stress) by multitasking, as Martin explains. "Call the airline while waiting in line," she says. "Lines to rebook your flights at the airport can often be long, so expediting the process by calling the airline directly while standing in line will help get your rebooked faster."