Holiday Travel Will Be No Big Deal With This Stress-Relieving Tip
Thanakorn.P/Shutterstock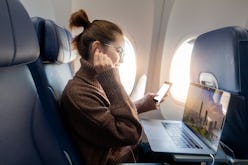 There's a lot to look forward to during the holiday season, including the festive food and drinks, the potential gift giving, and — ideally — the general public being in better spirits than usual. But if you're traveling this time of year, whether it be to be with friends and family or an off-the-grid escape, you could also be facing some stress. With weather conditions, last-minute flight arrangements or changes, and long waiting periods at the airport, flying can be triggering for a number of reasons. That said, there are some expert-approved tips for how to deal with flight anxiety if that's your biggest concern.
Anyone who's prone to travel-induced anxiety knows that it's easy to let your fears take over your excitement — even if you're heading off to some of the most stunning vacation spots. And often times, the anticipation only makes things worse. Sleep supplements might help you get some rest when you're in flight, but according to therapists, there are also a few things you can try that not only can start working from the second your anxiety kicks in, but they also won't cost you a thing.
As a licensed counseling psychologist at Brentwood Counseling Associates in Brentwood, Tennessee, Dr. Stephanie Insko has learned more than a few go-to tactics for getting — and staying — calm amid stressful situations. So before you start spiraling in anticipation of your travels, read ahead to find three of her best tips, including key meditation and breathing techniques, that can make your upcoming flight the least of your holiday stressors.
Send Your Mind Elsewhere
As simple as it sounds, actively taking your mind off the flight and onto something more pleasant could be an instant stress relief. "Your thoughts are likely spinning faster than the engines on the plane," says Dr. Insko. "But instead of trying to make them stop, try letting them pass you by. Using imagery can help with this: Try closing your eyes and visualizing your fears floating right past you — perhaps on the clouds right outside your window."
Relax Your Physical Body
Still not able to disconnect from those feelings? Dr. Inkso suggests shifting the focus to your physical ones. "If you can't turn off the worries and fears in your mind, try relaxing your body," she says. "A good place to start is with a simple breathing exercise: Exhale for four counts, then hold your breath for four counts. Inhale for the next four counts, and then hold it for another four."
Try Some Grounding Exercises
Dr. Insko adds that there are also some simple, go-to exercises that can help you feel more grounded. "For example, hold an ice cube in your hand until it melts, or dissolve a strong mint slowly in your mouth," she explains. "Engaging your senses in such a way can bring you back into the here and now until your feet are actually back on the ground."