This Flight Booking Mistake Is Costing You Thousands
Christian Vierig/Getty Images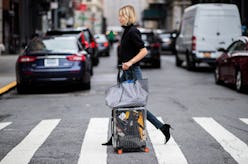 More people are traveling than ever before, thanks to online booking that's often inspired by social media-fueled wanderlust. After all, Instagram feeds are filled with photos from all corners of the globe, and with a few quick clicks, you can book a trip there, yourself. While world exploration has become more and more commonplace, the fact remains: There are some common travel mistakes that nearly everyone makes, and they could be costing you hundreds, even thousands, of dollars.
Whether you're headed to Rome, Romania, or Richmond, Virginia, knowing a few simple hacks can really help save you some cash. From staying in-the-know with airfare alerts to thinking outside the booking box, you can see the world without busting your budget. After all, the more you save, the more you can jet-set, right?
The pros from TravelPirates and Airfarewatchdog have seen it all and know a thing or two about jet-setting the smart way. Ahead, they dish about common costly travel mistakes, and even better, they give their tips on how to avoid them. If you practice some patience, use a few resources, and put these tried-and-true tips into practice, you'll be able to book your next vacay like a pro, no matter where your journey takes you.
Settling For High Fares
Yes, it's possible to visit Europe on the cheap if you head to lesser-known cities, or take an affordable tropical getaway outside of your typical honeymoon spots. But let's face it: If there's a certain destination on your bucket list, there aren't any substitutions.
Tracy Stewart, content editor for the travel deal site Airfarewatchdog.com, says that even if your sights are set on typically expensive destinations, doing some research can end up saving you dough. "Don't be discouraged if you search once and see a crazy high fare," she says. "Prices fluctuate, sometimes changing several times in the course of a day." In other words, a little patience (and a few clever hacks, like the ones below) can literally pay off.
Not Taking Advantage Of Travel Alerts
It's a common belief that airfares can be cheaper if they're booked during certain days of the week — and sometimes it's true — but Calvin Iverson says, a travel expert at TravelPirates, says that there's a better way to snag low-cost tickets. "Set up travel alerts (you can do this on the TravelPirates app) to be notified any time a flight price drops unusually low," he suggests.
Stewart agrees, adding a couple more tips. "We recommend signing up for a few [airfare alerts]. Airfarewatchdog fare alerts are great because they cover all airlines, including Delta and Southwest (which a lot of other alerts miss)." Further, she says, "Sign up for the airlines' newsletters. Follow along on Twitter. These are all the tricks of the trade."
Being Inflexible With Flight Times
Perhaps you have an ideal date or time of day in mind for boarding the plane. But before you put in for your PTO, do some research first; a few tweaks could save some cash. "People tend to be really inflexible when choosing travel times," Steward points out. "But if you're willing to bend just a little, you can save hundreds of dollars. Instead of flying on weekends, search for mid-week when fares are typically much lower. And as annoying as it may be to wake up at 5 a.m. for a flight, early morning flights are not only cheaper but are less likely to be caught up by delays."
Setting Your Searches For Specific Airports
Planning a flight from point A to point B? Consider whether point C might be cheaper. "If you have your heart set on a specific destination but fares are super expensive, widen your search to include alternative airports," suggests Stewart. "For example, if you're hoping to spend your summer sipping Campari sodas in Sicily, but fares from your home airport to Palermo are stubbornly high, consider flying into whatever European hub happens to be the cheapest and book a second flight to Palermo on a low cost carrier like EasyJet or GermanWings. Google flights even allows you to search for the cheapest flights from your home airport to anywhere in Europe, so you can easily string a trip together."
Buying Snacks & Drinks En Route
Airport food is notoriously pricey, so Iverson recommends being prepared in case your stomach starts to rumble en route. "As a general rule, always pack snacks when you are heading to a destination, as well as a water bottle," he says. Another suggestion? "[Pack] a change of clothes in your carry-on; it never hurts to be prepared in case of an emergency!" The savings may seem small, but they can really add up, especially for frequent fliers.
Not Knowing The DOT Rules
Knowing the rules set forth by the Department of Transportation can help you save thousands, particularly in the case of a booking or travel snafu. For instance, there's a regulation in place that you can cancel any flight (even a non-refundable one) within 24 hours of booking, as long as it's at least a week from the departure date. The caveat, though is that the interpretation of how to enforce this rule is up to the carriers' discretion; for instance, some airlines may have a 24 hour hold period where the purchaser is not charged, but can adjust their reservations as necessary. Others charge immediately, but provide changes or a full refund without repercussions, again, as long as it's within the aforementioned timeframe.
Further, if your luggage is lost on a domestic flight, you could be compensated up to $3,500 (this is just another reason that valuables should always be kept with you in carry-on). What's more, being bumped from a flight, while inconvenient, could put up to $1,350 depending on the circumstances. Check out Transportation.gov to read up on DOT rules and regulations.