This Is The Best Budget-Friendly Airline, According To Travel Pros
Pokryvka/Shutterstock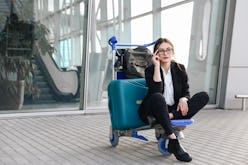 Your overall trip experience includes transportation, which often begins and ends onboard a flight. Although your time in the air is usually minimal compared to that spent at your destination, it can set the tone for the beginning of your vacay — or amplify your dread at the prospect of heading home. Of course, everyone's preferences are different when it comes to traveling by plane, which is why it's important to consider the best airline for your travel style.
For instance, an adventurer on a budget may prioritize price, while newlyweds might want a few more amenities to kick off their romantic honeymoon. There are also pet-lovers who like to travel with their furry friends. And for those flying out for a last-minute business meeting, timeliness may take precedence over everything else.
In any case, there's an airline to suit your needs, no matter the trip or your personal preferences. Ahead, find out the most accommodating airlines for six major travel styles, based on information gathered from the WalletHub 2019's Best Airlines report. Whether you're in search of a pet-friendly plane with a reputation for safety, a reliable flight with an on-time arrival, or an airline that puts comfort first, read on; and next time you get out of town, you'll be prepared for booking.
If You Consider Comfort To Be Key
Between cramped seating, narrow aisle space, and being confined for hours on end, flying isn't known for being the most comfortable experience. However, WalletHub gave JetBlue accolades as "Most Comfortable Airline," thanks its efforts to provide seating space for customers while keeping them happy en route.
"[JetBlue] leads the pack in terms of in-flight experience," Jill Gonzalez, analyst for WalletHub, explains. "Its flights have plenty of leg room, entertainment options, Wi-Fi, and complimentary food and drinks on all domestic flights over two hours."
If Timeliness Is Essential
Cancellations and delays are never fun, but when arriving on time is absolutely essential — perhaps you're flying in for an important business meeting, or you don't want to miss boarding for your dream cruise — Delta might be your best bet.
Recognized by WalletHub as the "Most Reliable Airline," Gonzalez points out that "it has the lowest share of cancelled flights, 0.05 percent, and no denied boardings."
If You're Traveling With A Furry Friend
Thanks to the rise of pet-friendly hotels, restaurants, and attractions, more people are bringing their companions on vacation than ever before. Still, flights are potentially dangerous for dogs and cats, especially those that can't fly in-cabin and are loaded under the plane as cargo. But when flying with your furry friend is absolutely necessary, WalletHub credits ExpressJet and Envoy Air as the two "Best Airlines For Pets."
ExpressJet's efforts to promote safety include the PetSafe program, which ensures that checked dogs and cats are flown in climate-controlled, pressurized compartments, and are the last to board the plane and the first to leave it. Envoy Air adheres to strict guidelines that include not flying pets in weather above 85 degrees Fahrenheit or for longer than 12 hours. Last year, "neither companies had any incidents involving the loss, injury or death of animals during air transportation," adds Gonzalez.
If You're On A Budget
WalletHub says that Frontier, the "Cheapest Airline," will give you the most bang for your buck. Flyers should know that this budget company doesn't offer any frills (in other words, bring your own snacks and entertainment), and it also has frequent cancellations and delays. However, if you're a low-maintenance and/or spontaneous traveller without a set-in-stone schedule, you'll get from point A to point B with plenty of cash to spare.
"Frontier is the best airline for budget flyers, followed closely by Spirit Airlines," Gonzalez comments. "Frontier has the cheapest airfare, but it is not among the most reliable airlines, as it has a large share of cancelled flights and denied boardings."
If You Prioritize Service
Between being herded through TSA, battling crowds, and dealing with unfriendly flight crews, flying can feel like a cattle call. So if you value service, being treated like a human passenger, and overall smooth sailing (er, flying), book on Southwest or ExpressJet. "[These airlines] are the 'Least Complained-About' companies," says Gonzalez. "They both have less than 0.5 complaints filed against them per 100,000 passengers."
When asked how they keep passengers happy, a representative for Southwest says it's all about customer service. "The Southwest Team strives to connect with each of our customers through our legendary Southwest Hospitality. Our customer service style is centered upon the 'Golden Rule,' and we serve each of our customers like we would want our own friends and family treated when they travel."
If You're Searching For The Most Pleasant Experience Overall
Thanks to spacious seating, onboard entertainment, snacks, and safety, WalletHub pinned Alaska Airlines as the "Best Airline Overall" for a pleasant experience. "All of its flights provide at least 30 inches of leg room in economy class, they have some form of entertainment on most flights, and free food and drinks on all domestic flights that are over two hours," explains Gonzalez. "Aside from in-flight comfort, the airline is very safe. It has no fatalities reported due to aircraft related issues, and the average fleet age is under ten years old."
"Our guests are at the center of everything we do," adds Andrew Harrison, Alaska Airlines' executive vice president and chief commercial officer. "This award is a credit to our amazing, kind-hearted people who provide genuine and caring service for our guests every day. We remain focused on delivering great value and continue to invest in improving our onboard experience to delight guests, while offering low fares."