This Is How You Wear A Hat Without Getting Hat Hair
Achim Aaron Harding/Getty Images Entertainment/Getty Images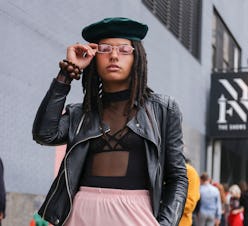 Come winter, fashion girls everywhere are forced to make a seemingly impossible choice: cute hair, or cute hat? But no more — after interviewing a slew of celebrity hairstylists about how to prevent hat hair while wearing beanies, berets, and other cold-weather accessories, I'm officially declaring winter 2018 the season of cute hats and cute hair. Because guess what? It's totally possible to rock both.
"Hat hair is when your hat flattens your hair and, because of dry winter air, causes static and flyaways," Leo Izquierdo, the co-founder of IGK Haircare and a stylist who works with influencers like Marianna Hewitt and a handful of Victoria's Secret Angels, tells The Zoe Report. According to him, avoiding deflation and frizz comes down to two things: initial styling and midday refreshing. In fact, combatting hat hair really begins in the shower.
"Think about the right shampoo and conditioner to use beforehand — use products that aren't drying," Garren, a celebrity hairstylist who created Priyanka Chopra's recent Vogue cover hair (and is also the co-founder of R+Co), tells The Zoe Report. The same goes for styling products. "Static is caused by a lack of moisture, so keep hair hydrated but not greasy," Izquierdo says. "I like to use IGK's Thirsty Girl Coconut Milk Leave-In Conditioner because it uses a patented hyaluronic acid complex which gives hair weightless hydration."
Those with straight or wavy hair should be sure to blow-dry. "Your hair should be completely dry before you put your hat on," Garren says. "Make sure your hair is dried in the direction you want it to go in, and then place the beanie on your head." This will help mitigate any flatness. If you have curly or coily hair, however, pulling on a hat while your hair is slightly damp can help "calm down volume," he tells TZR. "By the time you get to where you're going, your hair will be dry, less puffy, and closer to your head."
Since natural hair tends to be on the drier side, take care to protect curls and coils from beanie-induced breakage. "Tie a silk scarf over your hair before you put the hat on," Kim Kimble, a hairstylist who works with Beyoncé and Nicki Minaj, tells The Zoe Report. This helps stop hat hair before it starts.
Of course, the ultimate way to prevent hat hair is to strategically style your hair around the hat. "Wear a low bun or a braid, which will work when your hat is on or off," Izquierdo tells us. But if you do plan on removing your hat at any point during the day (say, if you wear it on the way to work and pull it off when you sit down at your desk), try these genius styling hacks from Garren: "Part your hair on the opposite side before putting your beanie on, so that when you take the hat off and flip it back over, you'll have the volume back," he says. "Or tuck your hair behind your ears and then put on the beanie — you get that nice front wave."
Refreshing flat, frizzy hair post-hat doesn't have to be a major production — it can be as simple as a hair flip. "When you take your hat off, immediately massage your scalp or flip your head to help refresh your style and give you some volume," Izquierdo instructs. Kimble suggests keeping dry shampoo on hand as well, like Briogeo Scalp Revival Charcoal + Biotin Dry Shampoo. Not only is this hair care staple great for extending your wash day, it can also add volume and absorb any sweat that's collected around the brim of the hat.
"Re-define your curls with IGK's Rich Kid Coconut Oil Gel and Mistress Hydrating Hair Balm," Izquierdo adds. "Mix the two together and twist through your hair to add lightweight hold, definition, and intense hydration." Or, spritz curls and coils with John Frieda Day 2 Revival Curl Reset Spray, a product specifically designed to refresh dry, curly hair.
So go ahead — indulge in winter 2018's chic beanies, berets, plaid Thinking Caps, and felt fedoras and rest assured that flat hat hair is so last year.