How To Increase Physical Intimacy In Your Relationship
Pixelformula/Sipa/Shutterstock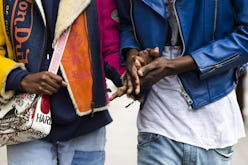 Frequency, communication, emotional wellbeing ... a lot goes into having a satisfying sex life. It's no wonder that busy schedules, endless to-do lists, and everyday stressors can interfere with physical contentment. Needless to say, most long-term couples will want to know how to increase physical intimacy in their relationship at one point or another, especially as the years pass.
Dr. Rebekah Montgomery, Ph.D a clinical psychologist with expertise in relationships, couples therapy, and premarital counseling, tells The Zoe Report that the majority of her clients seek her out because they're not on the same page. "The most common challenges I see are couples not having as much sex as they would like, going extended periods of time without sex, discrepant libidos, (one partner wants sex more than the other), or difficulties talking about sex, such as struggling to open up about wants, needs, feelings, etc."
Sound familiar? Read on. Ahead, two therapists and two women in relationships debunk common misconceptions and discuss how to overcome challenges to increase physical intimacy. If you and your S.O. have been out of sync, don't give up yet. With a few techniques, you'll be able to get the spark back, and better than ever before.
First, Figure Out What Works For You
When it comes to physical intimacy, Dr. Sue Varma, a board certified psychiatrist, couples counselor, and sex therapist, points out that knowing what you need is the foundation to a satisfying sex life. "My thought is, connect with yourself, the rest will follow," she explains. "Take the time to get acquainted with your own body; don't wait for your partner to 'discover your magic buttons.'"
Practice Self-Care
"Stress is one of the biggest libido killers I see," Dr. Montgomery tells TZR. She recommends working to decrease stress (for both you and your partner), whether that means going for a run, taking a relaxing bath, or tackling a few items on your to-do list before hopping into bed. "When things are taken care of, it frees up our mind for sexual space," she says.
Further, recharging on a regular basis will help bolster your confidence and keep anxiety at bay. "Take care of yourself; sleep, work out, eat well. It's very hard to be in the mood for sex if you are tired, feel lethargic/low energy, or are hungry. Self-care is huge."
Talk About It
For those who haven't done it before, talking about your most intimate desires can be uncomfortable. However, Dr. Varma explains that this conversation could take your relationship to the next level. "The problem is that our society doesn't hold space for these really elaborate, sensual, and intriguing conversations," she points out. "We learn so much from about people through their sexual fantasies. We also learn a lot from talking to each other."
Dr. Montgomery agrees, and gives some tips on getting the conversation started. "Whenever you're thinking about sex, share that with your partner," she suggests. "It could be a text or just a flirtatious share, but make sex a part of your regular dialogue. If there is a sexy scene in a movie you're watching together that excites you, share that with your partner or if they look sexy to you, tell them. Get comfortable sharing whenever sex occurs to you naturally, whether or not that leads to sex."
Learn To Give & Receive Feedback
Dr. Varma says that the best way to get what you need in bed is to communicate with each other what works (and what doesn't). However, this can be a tricky subject to broach.
One of Dr. Varma's clients recounts how therapy helped her learn how to give her boyfriend feedback in a constructive way. After two and a half years, they had begun to drift apart physically; he wanted to have sex more often, and meanwhile her needs weren't being met. "I had tried to tell him that I needed more foreplay," she says. "But the problem was, when I gave him direction, it ended up coming out wrong [and] he pulled away and [the moment was] over. Through therapy, I learned to be gentler with my feedback. It took a long time for him to not see it as criticism."
But after receiving help, both have become more in tune with each others' desires. "I've since been able to ask for what I want [and] work on my own self-esteem. He is more aware of my pleasure."
Pencil It In
Spontaneous? No. Effective? Yes. Penciling in some behind-closed-doors quality time may not sound romantic, but for busy partners, it's necessary. "Make a plan, schedule it; don't rely on chance," says Dr. Varma. "I like to advise Saturday/Sunday morning sex — people are more relaxed."
For the entirety of their relationship, personal finance consultant Kassandra Dasent and her husband, Peter, have dealt with distance, due to work travel. The two have learned to prioritize sex within their busy schedules, and while it's out of necessity, she swears it works. "The main challenge is not being able to be intimate at will," admits Dasent. "However, one of our greatest strengths as a couple is our ability to communicate positively with each other."
Further, the frequent distance has lead them to settle into a routine that fits their relationship. "I will travel for a rendezvous with my husband for a few days, especially when he may be gone for several months at a time," she says. "After trial and error, we do not let a maximum of one month pass without seeing each other, especially if the travel schedule is long-term ... We consider it an investment and safeguard of our marriage."
De-Mystify Misconceptions About A "Normal" Sex Life
Everyone wonders what's "normal" when it comes to sexual frequency, especially for couples who are in it for the long haul. However, Dr. Varma warns, "please don't compare yourself to a norm and feel disheartened if you don't fit it."
Dr. Montgomery adds that your sex life should be measured in contentment, not frequency. "'Healthy' and 'normal' are more about what makes two people feel satisfied and connected, versus a number," she explains. "Also frequency is not static, it's going to ebb and flow over the course of your relationship, and it's usually related to contextual factors like stress, work, family, health, mood, self-esteem, etc.
"Other misconceptions include people imagining everyone is having more sex than them. People often overestimate how much sex other couples are having."
And for the record: Dr. Varma's client says she and her boyfriend have sex about once a week, and are "working on at least twice a week," following therapy; Dasent says she and her husband make up for lost time by doing it three to four times a week when they're together.
Keep Your Emotional Bond Strong
Of course, feeling intimate emotionally is key to long-term between-the-sheets bliss. (And if you haven't already, figuring out you and your S.O.'s love languages can make your bond stronger than ever before.) "The more emotionally connected you are -- whether that's physical affection, listening to each other, [or] having deep conversations -- you will be more likely to have sex, or enjoy sex," says Dr. Montgomery.
And thanks to technology, you can engage in emotional intimacy whether you're together or apart. "We speak every day and/or exchange messages to reinforce our communication and connection as a couple," says Dasent of herself and her husband. "We would not have made it this far without having these 'rules' in place."
Take The Pressure Off
Yes, sex is serious ... but when you're with the one you love, try not to take it so seriously. "Be playful," encourages Dr. Montgomery. "Sex is play time for your relationship. Have fun, be silly, be flirty, be kind, be romantic, explore what brings out the playful side in your relationship, and create more space for that in your life together."
Dr. Varma agrees, suggesting you do something to relax, even if that means enjoying a glass of pre-foreplay red wine to get you in the mood (that is, if you're into vino). "Have fun, laugh, be playful, be silly, be open. This is not life or death. It's supposed to be fun." She concludes, "I tell couples who have a strong foundation but are lacking in the bedroom to not give up hope."