How To Keep The Spark Alive In A Long-Term Relationship, According To Couples Who've Done It
Alberto E. Rodriguez/Getty Images Entertainment/Getty Images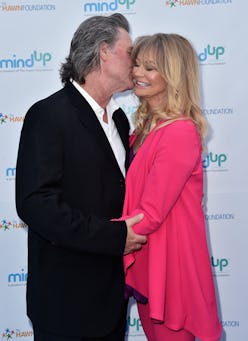 There's nothing like the heart-pounding giddiness that comes with new love. In those first weeks and months, the excitement and attraction are in full force. But after some time, you settle into a routine, and life's obligations have a tendency of snuffing out the romance. So as the years, and eventually, decades pass, how do you keep the spark alive in a long-term relationship?
Read more: 10 Signs You've Found The One, According To Relationship Experts
While the initial magnetism will inevitably dwindle, it's replaced with a foundation of love and trust that can only be built over time. Still, as they say, relationships take work, and it's imperative that both partners put forth effort to maintain the connection so you don't drift apart. That said, when you're with the one you love, showing them how much you care is a pleasure, not a chore.
Ahead, three couples and a sexologist share their best tips for staying blissful in a long-term relationship. Hear from a blissfully committed life coach, a young couple who's dealt with distance, a married pair who works together (for over two decades, no less), plus professional advice on sustaining your sex life. The good news is, no matter how long you and your S.O. have been (and will stay) together, it's possible to keep the spark burning — and these partners prove it.
1. "Speak" Your Partner's Love Languages
If you don't know your S.O.'s love languages (or your own, for that matter), learning how they prefer to give and receive love — namely, acts of service, gifts, quality time, physical touch, and words of affirmation — can take your relationship to the next level.
"I love leaving unexpected love notes for my husband to let him know that he is appreciated," says Chari Twitty-Hawkins, a life coach for moms (and mother, herself) who's been married to her husband for nearly eight years. "One of his love languages is words of affirmation, so I make this part of my routine to nurture our marriage."
2. Take Time To Check In
No matter how long you've been together, knowing that your partner is thinking about you is always reassuring. And the best part? Thanks to modern technology, it only takes a few seconds. "We send texts to one another asking how the other is doing and encouraging each other throughout the day," says Twitty-Hawkins. She adds that sometimes, the messages turn romantic. "Love those!"
3. Anticipate Each Other's Needs
Meghan Tocci, a freelance copywriter, and her boyfriend have spent the better part of their four-year relationship at a distance. The glue that keeps them together? Anticipating and fulfilling each other's needs, whether together or apart. "With distance, we've relied on anticipating needs as a way to keep the spark alive," she explains. "To a degree, you have to try and share a mind. For example, I came home to a 40-lb bag of dog food the other day because, based of the timing, [my boyfriend] Josh knew our pup was almost out." She adds, "It doesn't have to be about physical gifts, but the best way we've managed to keep the spark there is to be there for someone without being asked."
Twitty-Hawkins mentions that as parents, she and her husband prioritize their relationship. "We make sure we don't put our kids first because we can neglect our marriage. In doing so, and it will hurt the family as a whole."
4. Plan Weekly Dates
Whether it's a nice dinner out, a cozy night in, an epic hiking adventure, or a weekend getaway, spending quality time together (on a regular basis) keeps the bond strong. Twitty-Hawkins says that planning weekly dates with her other half helps them maintain their deep connection. "We meet on my husband's lunch break and talk about the things we are dealing with in life that we may not otherwise talk about," she says.
Tocci also suggests switching up your routine to keep things fresh. "Do something different," she says, because after all, "you'll either love it or hate it together!"
5. Get On The Same Page About Money
It may not be sexy, but talking to your partner about money — and getting on the same page — is crucial if you and your significant other are in it for the long haul. After all, when it comes to having fun, upholding your obligations, and building a life together, a lot of your decisions will boil down to finances. "[Money is] such a source of stress in relationships," admits Tocci. "With different salaries, often one partner is able to do more [financially], and the other can't. Sometimes, people can resent footing the bill all the time. Because money can be a touchy subject, sometimes it's not talked about, and without communication in long-term relationships, you wind up in trouble."
Needless to say, if the two of you can be open and honest about money and share similar expectations and goals, you'll be able to avoid a lot of tension in the future.
6. Appreciate Each Other's Differences
It's impossible for two people to always agree, and when conflict arises, being able to appreciate and respect your S.O.'s point of view allows for arguments to end constructively. Dr. Elisa Mello, who co-owns NYC Smile Design along with her husband of 22 years, has some words of advice for dealing with clashing opinions.
"We practice dentistry together, which can be quite stressful," Dr. Mello says. "Recognizing each others' strengths on a daily basis is helpful in controlling [the stress] and keeps your connection and admiration of each other strong." In general, she says that "embracing your differences and not trying to change your partner," is key to long-term relationship success.
7. Prioritize Physical Intimacy
In almost every relationship is an inevitable fizzle when it comes to physical intimacy. But to keep the romance alive, Dr. Jennifer Gunsaullus, sociologist, sexologist, and author of the upcoming book, From Madness to Mindfulness: Reinventing Sex for Women, says it's a subject that should be out in the open. "It's important to first realize that despite ample early passion in a relationship, it's not uncommon for that to dissipate after a few years (or sooner)," she says. "With this in mind, it's invaluable to create an openness around conversations about desire, needs, expectations, and interests. This helps you design your sexual relationship around the intention that it's always safe and necessary to talk about these topics, even (or especially) when it's uncomfortable."
To prevent your love life from being pushed to the back burner, "I recommend scheduling a monthly check-in about sex and intimacy to make sure you're on the same page," says Dr. Gunsaullus. "Are you both feeling connected? Is your sexual love bucket filled? Are you getting the physical closeness you need? This isn't a time to blame or shame, but to each share about your needs and wants in a responsible way. If there is a discrepancy in desire, choose one thing to each focus on that month to commit to nipping the concern in the bud."
8. Maintain Separate Interests
While it's wonderful to have the same interests (and to some extent, necessary), having your own hobbies and social circles is important, too. "Ramin is a serious runner, and I hate running," says Dr. Mello. "But, I'm really good at cheering him on and handing him water during races!"
Tocci adds that keeping in touch with your friend group, and encouraging your partner to do the same, will help keep you both happy, and strengthen your relationship. "Mindfully carve out time with your friends, avoiding any 'asking for permission' rhetoric," she suggests. "Unapologetically root for healthy friendships for you both!"