42 Interesting Beauty & Grooming Products That Always Make Amazon's Best-Sellers List
Jacob Lund/Fotolia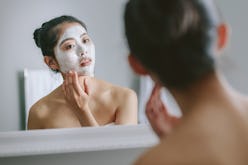 There are products that you'll always need to restock your makeup bag or bathroom cabinet with: mascara, lipstick, tweezers, deodorant — but these aren't exactly the most exciting things to buy. Over on Amazon, however, there are tons of self-care products for men and women that break the mold. With these interesting grooming products that always make Amazon's best-seller's list, you'll find out that beauty basics don't always have to be boring.
These fun but useful products exist in the "why didn't I think of that?" realm of beauty. Get bored in the shower? There's a head-massaging tool that'll make you actually look forward to washing your hair. Hate applying sticky sunscreen in the morning? Maybe it's because you haven't discovered brush-on sunblock that comes in a travel-friendly powder form, yet. And that's not to mention the countless sheet masks for your face, feet, and even your butt that make at-home spa days so much more fun.
Not only do these products constantly top Amazon's best-sellers list, but real-life reviewers can't stop raving about them — and it's common knowledge that Amazon customers are some of the pickiest in the world.
So if you're sick of all the mundane tasks that take place in your bathroom, read on. Showering, shaving, shampooing, and scrubbing are about to become so much more interesting.