The Genius Trick I Use For Glossy, Insta-Worthy Eye Makeup
Flesh Beauty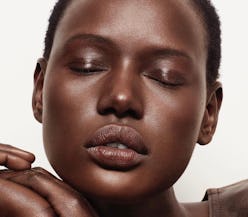 Not to brag (OK, maybe to brag a little), but I recently cracked the code on how to do glossy eye makeup without looking or feeling sticky and sweaty — and now, I can't stop. Every day seems like an appropriate occasion for a high-shine eyelid. And why not? The look is fresh, dewy, and according to experts, easier to pull off than you think.
"I love doing a glossy eyelid, and sometimes even adding a bit of gloss to to brows as a brow gel," Gloria Noto, the founder of NOTO Botanics and a makeup artist who's worked with Olivia Wilde and Emily Ratajkowski, tells The Zoe Report. "Sometimes I skip the mascara and go for an ethereal look , leaving the skin bright and angelic." This tip inspired me to experiment on my own, which is how I discovered my (totally genius) secret for a natural-looking glossy lid: castor oil. In lieu of eye shadow, mascara, and brow gel, I opt for a smidge of pure castor oil layered on the lid, combed onto my lashes, and slicked over my brows. The effect? A subtle glow that actually conditions lashes and brow hairs as it wears.
It just goes to show that you don't technically need an "eye gloss" in your arsenal to get in on the trend. "A pro tip to create a formula if you don't already own one is to simply apply a sheer, non-sticky lip gloss to your eyelids," Neil Scibelli, a celebrity makeup artist (he's Elle Macpherson's go-to guy), tells TZR. "This happens in editorials and runways all the time." He suggests playing with clear gloss first, then working your way up to a nude or sheer pink gloss for a pop of light-reflecting color. Just make sure not to use a lip gloss with menthol or cinnamon in it, as Scibelli notes those can be irritating. "Even worse, avoid any lip plumping glosses around the eyes because they contain ingredients that could be potentially harmful in the eyes," he adds.
Once you find a non-irritating gloss you love (I'm a fan of Kari Gran Lip Whip and Kopari Coconut Lip Glossy), don't be afraid to go full-glow: Matchy-matchy gloss on the lids and lips is officially A Look. "I love doing this," Noto says. "Tap a bit on the lids and tap a bit on the cheeks and lips." Personally, I've been test-driving the monochromatic trend with NOTO Botanics new Multi Benne Stain Pot in the shade Genet, a deep rose. With a slightly-glossy finish, it's meant for use on the lips and cheeks, but I find it really pops on my eyes as well. (As always, if you have sensitive skin, be extra-careful about using products around your eyes that aren't intended specifically for eyes. "The best advice is knowing your body, what works and what doesn't work for you ingredient-wise, and go from there," Noto says.)
As for application, start small by using your ring finger to tap a little product onto your lids. "Lightly pat above the lash line," Scibelli tells TZR. "Just make sure you don't get the gloss too close to the lashes to avoid any messy, clumping situations." If you're not one for finger painting, a small concealer brush works just fine, too. Finally, to keep the trend from looking sweaty/sticking/generally greasy, stick to cream formulas for the rest of your makeup, like foundation and highlighter. "Since powders can give a more matte look, or settle in fine lines, creams will naturally look glossier and reflect light," the makeup artist says.
Ahead, 10 lip glosses, eye glosses, and oils to take your gloss game to the next level.
Shop Glossy Lids