The Crucial Pro Tip That'll Take The Stress Out Of Travel
interstid/Shutterstock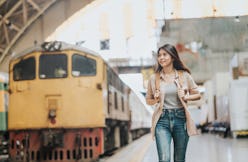 Taking trips to exotic lands always looks glamorous on Instagram, but as you well know, traveling can often include a certain amount of stress. Flying, in particular, has a way of causing excess anxiety, and if you're headed to a foreign country, an emergency abroad can send you into a panic. To make the most of your vacation, the trick is to learn how to travel stress-free by planning for any inconveniences or mishaps that may come your way. After all, "You can't control the weather, the airlines, or your fellow passengers, but you can control your level of preparation and your back-up plan," points out Sarah Lang, founder of Foray Travel + Event Design, a travel consultant service.
Ahead, three travel pros share their insider tips on reducing stress while traveling by plane or abroad. From avoiding long TSA lines, to navigating delays, to dealing with worst-case scenarios like lost luggage or stolen wallets, these frequent fliers know a thing or two about tackling obstacles while en route. Take note of this expert advice before your next trip and, with your newfound peace of mind, you'll be able to slip into "vacation mode" the moment you set foot in the airport.
Plan Ahead As Much As Possible
According to Karen Akpan, founder of The Mom Trotter, a family travel blog, the more you can arrange, pre-pay, and book in advance, the more relaxed you'll be throughout your vacation. "Book your flight ahead of time, arrange for a ride to the airport, arrange for airport parking if you need to, and prepay for it so you aren't scrambling the day of your flight," suggests Akpan. This also includes checking your airline's size and weight requirements for both checked and carry-on luggage so there are no last-minute surprises.
Lastly, Akpan also recommends "double and triple-checking" for important documents before leaving the house. ("We've forgotten passports before and had to return home to get them," she says.) In the midst of your pre-trip scramble, "having a checklist helps avoid missing things," she says.
Invest In Travel Insurance
There are some things you can't control, but being financially covered in case an incident arises will help to eliminate some anxiety. "Knowing that I always have travel insurance when I'm traveling does wonders to ease away the stress of 'what if' when thinking about everything that could go wrong during a trip," says Lang. "Knowing that you can be reimbursed for unexpected expenses when a flight is canceled, or hospital stays abroad when illness strikes, is invaluable."
Get TSA Pre-Check
One of the least pleasant parts about traveling by air is doing the "TSA Strip"; taking off shoes, belts, and sweatshirts, and being herded through a crowded line. Akpan calls TSA Pre-Check a "must-have" because it allows you to bypass the fiasco and keep liquids and electronics inside your carry-on, too.
Applying will cost you $85, and you'll have to get a background check that involves an in-person interview and fingerprinting at a designated location near you. After that, you'll qualify for pre-check status for five years before needing to reapply — definitely worth it for nervous or frequent travelers.
Bring An Extra Credit/Debit Card & A Copy Of Your Passport
"I always hide an extra debit card in my suitcase just in case I unexpectedly lose my wallet or fraud occurs on my account, since losing access to your money while traveling is one of the most stressful things that can happen," explains Lang. "This has saved me on multiple occasions."
Another smart idea is to bring photocopies of your credit cards (front and back) as well as your passport, and keep them in a hidden place or in a safe wherever you're staying. Your credit card information will help in the event that you have to call your bank and cancel your card as soon as possible. And while a photocopy of your passport isn't a substitute for real thing, if you lose the original, you can take it to the closest embassy and they can issue you a new one. It may be tempting to store this information on your phone, but remember, if your purse gets lost or stolen, your phone may go with it.
Give Yourself Plenty Of Time
Delays happen, traffic backs up, and airports can be confusing (or have huge distances between gates). Running late for a flight is extremely stressful, so travel pros advise creating a schedule that gives you plenty of time to get from one place to another.
Lang says that this begins with mindfully choosing connecting flights. "I see more and more flights being sold with very short layover times that are just too risky in my opinion," she says. "If you sort your flight options by the shortest duration as I do, these are the flights that often look the most attractive since they get you there the fastest. It's easy to overlook this detail, so make sure that you're purchasing flights with reasonable layover times to reduce your stress while traveling and your risk of missing a connection."
Travel blogger Jen Ruiz, TEDx speaker and founder of Jen on a Jet Plane, even suggests booking connections with at least three hours in between. If all goes well, use the extra time to relax with a cocktail or enjoy a bite to eat.
Stash Essentials In Your Carry-On
While Ruiz assures that lost luggage usually turns up, she points out that keeping a few essentials (and your irreplaceable valuables) in your carry-on can prevent an inconvenience from becoming a full-on disaster. "Always keep a change of clothes and bath and body basics in your carry-on in case you need to change while waiting for it to come in," says Ruiz. Other items to keep on hand include contacts or an extra set of glasses, a few makeup basics, and any important jewelry you couldn't bear to lose.
The experts also advise putting distinctive accessories on your checked bags, like a bright luggage tag or scarf. This will make your belongings easy to identify, whether at baggage claim or in the event that they get lost.
International Travel Hacks
International trips are both exciting and full of hassles, so for crossing country borders, Ruiz shares some of her favorite hacks. "Global Entry is invaluable," she begins, referring to a program that expedites re-entry into the U.S. for members. It costs $100, requires an in-person interview and fingerprinting, and is good for five years. Plus, it often grants you TSA pre-check benefits, too. "Some of the most popular credit cards that offer travel perks will even reimburse you for the application fee," she adds.
Further, she recommends an app that'll shorten wait times even more. "If you want to enter the U.S. faster after an international trip, download the Mobile Passport app. You answer the customs questions on your phone when you land and get to present the barcode you're given in the Global Entry line, skipping the extended customs process." The basic app is free, but you can opt for the "plus" version for $14.99, which allows you to scan your passport and store encrypted information.