The 3-Minute Tip That'll Instantly Relieve Your Holiday Stress
Pablo Cuadra/Getty Images Entertainment/Getty Images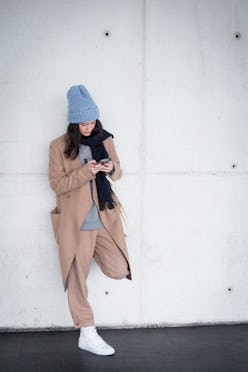 The holiday season is about celebrating, giving, and making memories, but it's also the perfect storm for anxiety. By the time you're done cooking, compiling your gifting list, battling avid shoppers, and trying to keep your cool around your relatives, you may find that all the fun has been sucked out of the festivities. Luckily, you're not powerless against these emotions, if you know how to beat holiday stress quickly and easily.
In fact, staving off the holiday blues can be quite simple, if you are properly equipped with some key techniques and tools and, most importantly, if you remain consistent and self-aware. With a little bit of forethought and fresh perspective, you can squelch some of the anxiousness that accompanies "the most wonderful time of the year" in literally seconds flat.
If you don't know where to start, don't worry. Ahead, expert tips, tools, and techniques, courtesy of three health gurus who treat mental and spiritual wellbeing for a living. From must-have products to stock in your self-care toolkit to calming exercises you can practice anytime, anywhere, you'll be well-equipped for whatever comes your way in the coming weeks. Now the holidays can just be merry and bright all the time.
Managing Your Mindset
Dr. Christina Brooks, a licensed psychologist specializing in the treatment of anxiety and OCD across the lifespan, says that the first step to stopping the spiral is recognizing negative thoughts. "Identifying your thoughts and emotions ... puts distance between yourself and these experiences, allowing you to act instead of react," she says. "Your thoughts are no longer facts and your emotions are no longer evidence to support those facts." Further, Debra Berndt-Maldonado, CEO of Academy of Jungian Spiritual Psychology, says to stop fueling the bad feelings by laying off social media, which she describes as "a feeding ground for stress."
So instead of getting lost in others' picture-perfect posts, try reshaping your own thought patterns. "One technique we teach our clients is called 'meta-consciousness,' a fancy word meaning to be above the conscious thought," Berndt-Maldonado explains. "Stress is not caused by external situations but by the thinking and stories around the situation." For example, if you're frazzled because you're running late, "remember there is nothing you can do, being anxious about it is not going to get you there faster. Most of the time we worry what the other person will think about us, and that is why we are stressed. If you just drop the fear of their judgment, you will find that being late is not so terrible. What they think about you and your lateness is more about them than you."
Changing Your Focus
Dr. Brooks points out that embracing an attitude of gratitude will help change your perspective, too. "[Be] mindful of the smallest to the largest aspects of life for which you are grateful," she says. "Stress often comes from the focus on the unpleasant experiences in life. Changing your mindset in the face of stress can help you to approach stressful situations in a calm manner."
She also notes that acts of compassion switches your focus from stewing to selflessness, and it doesn't have to be too costly or time consuming. Try brightening someone's day by "asking a stranger how they are doing, holding the door for someone, allowing someone to go ahead of you in line, or giving a compliment," she says.
Fast-Acting Supplements
Dr. Alice W. Lee, MD, a holistic psychiatrist, says that maintaining proper nutrition is the first line of defense against anxiety. "When you have the nutrients in your body to do work, you become much more stress-resilient," she explains, adding that sufficient vitamin D (especially in the wintertime) and a quality multivitamin helps to keep things balanced.
However, when things get hectic (like around the holidays), she says there are lots of natural ways to help ease the tension. One of her favorites is Quicksilver Scientific Liposomol GABA with L-Theanine, which contains the calming neurotransmitter GABA and can be pumped onto the tongue for immediate absorption.
Another of her go-to supplements is Douglas Laboratories Niacinamide, which can help keep panic at bay. "When the adrenals kick in, they release a lot of adrenaline and it puts you in this flight or fight response," Dr. Lee says. "[This] B vitamin helps you convert the waste products of adrenaline."
If you're looking for an incognito stress reliever you can casually pop in public, she says to try the Bach Flower Supplements Rescue Remedy line, which is formulated with a blend botanicals that help calm nerves. Try the pastilles, as they look — and taste — like candies in a tin.
But perhaps the most surprising remedy of all? "People are much calmer when they eat germinated brown rice," Dr. Lee explains, "[It] has natural GABA in it." She swears that it's helped some of her sleeping aid-dependent patients get a peaceful night's rest, even when other supplements didn't do the trick. It can be picked up at many health food stores, then steamed and eaten just like regular brown rice. (Perhaps you should consider this as your Thanksgiving side dish. )
Aromatherapy
Another favorite stress reliever of Dr. Lee's is the use of good quality essential oils (cheaper versions just won't do the trick). She recommends diluting the scent with body or coconut oil, then dabbing it onto the wrists, neck, temples, or behind the ears. You can even add a few drops into an air diffuser to create a mood-altering atmosphere. She uses Young Living Essential Oils with her patients and is particular to the lavender scent, saying "I use it all the time to help people."
3-Minute Meditations
Meditation is one of the most versatile stress-relievers. A few minutes of quiet focus can bring you optimism before a hectic day, help relax you before bed, or provide immediate calm whenever you're in a pinch.
Try practicing this 3-minute Energy Breaths exercise, created by Dr. Lee, to invite calmness and serenity into your life. For more ways to be guided into peaceful bliss, Dr. Brooks recommends the Headspace App, where you can access free meditations that are short but effective.
15-Second Sensory Exercises
If you're not in a position to sit in a quiet corner or roll out your yoga mat, there are some quickie techniques you can use whether you're in line at the store or hiding in the bathroom for a moment of quiet.
In order to refocus, Dr. Brooks suggests checking in with your five senses. "Notice five things you can see, four things you can touch, three things you can hear, two things you can smell, [and] one thing you can taste." Her other go-to? "Close your eyes and picture yourself in a calming place (i.e., at the beach, lounging on the sofa reading a book next to the fire, etc.). Picture this place in detail using your five senses while taking deep breaths in through you nose and out through your mouth."
Another technique is to pinpoint where you're physically holding stress in your body. First, mentally separate it into three major muscle groups: feet and legs, core, arms and shoulders. As you breathe in through your nose, tense one group at a time, hold, then release and exhale through your mouth; repeat this three times over. "This exercise helps you to recognize subtle signs of stress in muscle tension and respond by relaxing those muscles," she explains. "Your brain takes cues from your body and your body takes cues from your brain: 'Calm body, calm mind. Calm mind, calm body.'"
5-Second Breathing Exercises
If you need a dose of zen now — say, you're sitting at the dinner table — taking a moment to do some conscious breathing will take the edge off. "Breathe in for 3-5 counts, hold it for a second then breathe out for the same amount of time (in through your nose out through your mouth)," advises Dr. Brooks. Berndt-Maldonado says another simple stress reliever is to breathe in while counting to 10, then breathe out counting down backwards.