This Winter Styling Trick Will Make Your Outfit Pop Instantly
Christian Vierig/Getty Images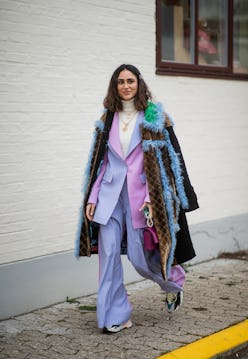 Sartorial speaking, winter tends to be dreary. When it's gloomy outside, where's the motivation to enrobe yourself in a rainbow of colors? Even if you road-test a bright color, you're first instinct is likely to tone it down with something neutral. But as you put your 2020 resolutions in place, consider adding a bit of brightness into your ensemble, a goal you can easily achieve when you nail how to color block your outfit during winter.
During the Spring/Summer 2020 season, color-blocking appeared on multiple runways (including those of heavy hitters like Gucci, Chanel, and Jacquemus), offering ample inspiration for unexpected color pairings. Bright on bright, or the combination of neons with more desaturated tones both work, especially when you also mix in winter's rich textures. Generally, the best rule of thumb is to choose options from opposite sides of the color wheel. But, if you consider yourself a bit more minimalist, you can stick to a single color family or try stepping up a neutral tone with a contrasting electric one. Find all the inspiration you'll need to get started on your cold-weather color story below.
Color Block Outfits For Winter: Winter Watermelon Hues
Watermelon colors aren't just for the warmer months. Indulge in the juicy hues by combining a bright, cozy knit and textured bottom. Instead of balancing out the color-block with neutral accessories, try a muted color for a cool twist.
Color Block Outfits For Winter: Pastel Suiting
Yes, you can color block with neutrals too. Ease into the trend by pairing your neutral-toned pieces with colorful separates. Winter textures are a valuable asset when mixing contrasting hues. Case in point: a python-print boot plays nice with corduroy or velvet.
Color Block Outfits For Winter: Lavender & Red
Red and lavender are a combination that is bold without feeling jarring. The muted tone of the purple adds softness to the red, making this combo perfect for color-block beginners.
Color Block Outfits For Winter: Multi-Tone Suiting Separates
Instead of contrasting a one-hue suit with what you layer underneath, seek out an ensemble that does the lifting for you. A two-tone or multicolor blazer and trouser combo makes adding new hues easy.
Color Block Outfits For Winter: Foot-Forward
A timeless slip layered with a fitted turtleneck underneath is a classic winter combo, but styled with bright color-blocked boot makes for a cool contrast. You can also keep it a bit more subdued by opting for a boot in Navy.
Color Block Outfits For Winter: A Textured Color Story
A futuristic metallic trouser, chunky knitted sweater, and satin shoes show the power of playing with different textures. Colors in the same family feel instantly distinct.
Color Block Outfits For Winter: Highlighter Tights
Tights are the foundation of any NYC woman's winter wardrobe, and a neon opaque version packs a punch when used to contrast neutral workwear pieces. Opt for an oversized plaid blazer as a juxtaposition against the edgy hosiery. For a sleek finish, add a modern accessory like a vintage shoulder bag or pointed-toe pumps.
Color Block Outfits For Winter: Two-Tone Outerwear
Spruce up your everyday uniform of jeans and t-shirt with shearling color-block coat in two expected, yet complimenting colors: red and fuchsia.