This One Crucial Piece Can Transform Your Fall Style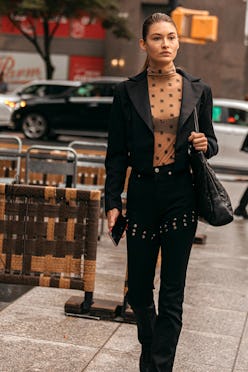 Fall is associated with crisp, chilly air, big chunky sweaters, and hot, seasonally flavored lattes. But, the reality of the season is that it still feels like summer well into October in most regions of the U.S. It's ideal if you're not quite ready to let the warm weather go, but for those who can't wait to break out their proper fall wardrobe, it can be a bit of a drag. Thankfully, one of this season's biggest trends satisfies both the wants and the realities of early autumn dressing. Master how to style a barely there, fitted turtleneck, and you're good to go.
Unlike the knits and cotton styles that have been popular since well, forever, these second-skin turtlenecks are typically sheer, made of lightweight mesh or ultra-thin stretch-jersey fabrics that make for the seemingly perfect transitional and layering pieces. And because they are such an easy-to-wear staple, styling the tops is a no-brainer, whether you opt to tuck into a high-waisted vintage pair of denim, layer seamlessly under a slip dress, or temper the semi-sheer finish by layering it over a camisole, there's no going wrong.
Possibly the most interesting part about the trend is how much fun brands are having churning them out. Nine times out of 10, when you spot one of these thin, close-cut turtlenecks out in the wild, they'll be covered in a bold, all-over pattern or print. In a transitional time in fashion where all of the blatant logo-mania is dwindling down, brands are opting more and more for easily recognizable original patterns, like Marine Serre's now infamous crescent moon, or Nanushka's moody animal prints.
Ahead you'll find a few styling ideas along with piece to shop from a handful of fall 2019's very best second-skin turtleneck contenders, ranging from Prabal Gurung to Aritzia.
All About Layers
A sheer top makes for an ideal top layer, allowing a pop of color or clashing print to show up underneath. Also, if you don't mind showing off your favorite bra, this top makes for an ideal styling partner.
Keep It Simple
Use a fitted turtleneck as part of a streamlined look for those days you just want getting dressed to be easy. Pick one hue and sport it from head to toe.
Change Of Mood
Layer a fitted turtleneck under a skip dress to give it an entirely new feel. Play with pieces in the same color palette to keep the ensemble from feeling too busy.
Playful Prints
Make your bold turtleneck the center of your ensemble by keeping the rest of your look simple. Trousers or a pair of basic high-waisted jeans are ideal for tucking in your fitted top.