How To Color Block Your Outfit The Gabrielle Union Way
Owen Kolasinski/BFA/Shutterstock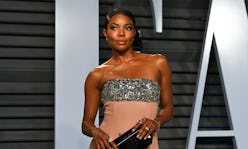 Gabrielle Union sure does know her way around a color wheel. The new mom has never been afraid to sport a bold hue, or several at once, for that matter. She's constantly working bright color combos into her wardrobe, so there's hardly a better person to teach you how to color block your outfits like a pro.
The actor has been known for her daring style since the Bring It On days. Come to think of it, perhaps it was the green-and-gold cheerleading outfit that sparked her color-blocking fascination in the first place. Now, two decades later, not much has changed.
No matter the season, you can always expect Union to turn up in the boldest hue. Take the neon-yellow Prabal Gurung gown she wore to the 2018 Met Gala, for instance, or the black-and-royal-blue geometric dress she sported to the Vanity Fair Oscars Party the year before.
Lately, the 46-year-old has been bravely pairing colors from opposite ends of the color wheel together and her courageous combinations have gone over surprisingly well. Even her first-ever fashion line, a collaboration with New York & Company that launched in 2017, featured color-blocked dresses, skirts, and coats.
Take a tip from this fashion-forward activist and start putting together your own polychromatic looks. Ahead, The Zoe Report's favorite Gabrielle Union-inspired outfits to get you started.
Pink & Turquoise
In May, Union wore the most unexpected combo to the Prada Resort show in New York City. She layered an oversized turquoise vest over a sleek, slit-laden skirt, which made for an all-around '80s look. Though the disproportionate shapes clashed as much as the colors themselves, the two pieces somehow still looked like they belonged together. Try copping the look with a boxy top and form-fitting pencil skirt in Union's vivid hues.
Get The Look
Blue & Yellow
Weeks later, the actor went baggy retro at a special screening of her latest film, Breaking In, at Hollywood's ArcLight Cinemas. She plucked everything (including the belt and hat accessories) from Marc Jacobs' Fall 2018 fashion show. The outfit consisted of a silk turquoise button-up blouse with a dramatic, ruffled collar and puffy shoulders tucked into a pair of high-waisted and pleated mustard-yellow pants.
Get The Look
Color-Blocked Coat
The queen of color blocking lucked out when she found this over-the-top, multi-hued coat. In 2017, Union arrived on the set of Good Morning America wearing the warmest shearling outer layer by Dion Lee. The one-of-a-kind coat features burgundy sleeves and a paneled bodice — half royal blue, half dark green. It's a bold look, but if you pair the jacket with an understated outfit — such as all black, like Union wore — so as not to overwhelm it, then there simply isn't a chance it won't work.
Get The Look