How To Add Color To Your Kitchen, Even If You're A Commitment-Phobe
Courtesy of Artistic Tile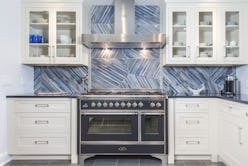 When it comes to brightening up your home, for some reason, living rooms and bedrooms are often the first spaces one thinks of tackling. Maybe you feel they're "safer" spaces with more options for adding a pop of something without committing to anything too permanent. Rooms like kitchens, however, often stay fairly neutral as people often feel that adding paint or tile is too risky. However, experts say adding color to your kitchen is a move everyone should be making — all "risks" considered.
"We realize that many people are afraid of adding color," says Nancy Epstein, CEO and founder of Artistic Tile. "[...] The colors and materials you select for your kitchen will affect your mood and the impression your home makes on your guests. Your kitchen is one of the most important, most frequented spaces of your home — selecting colors that make you feel good and that you feel reflect your personality or sense of style will help you build a space you'll enjoy spending time in with family and friends."
But what about said concerns? "Most are concerned that adding color to their kitchens will have a negative impact on resale value, or that they might tire of it," says Epstein. "The truth is, most people don't sell their houses often enough for this to warrant as a primary concern (over their actual enjoyment of their space) and anything done with good taste will hold its value. We've always said that you should build what you love."
And while adding things like tile might not be an option for renters, a nice coat of paint on the walls or vibrant wallpaper are great options for renters. (Landlords are typically open to a coat of paint as it can easily be changed back if and when renters move out.)
To get your creative juices flowing toward your kitchen. ahead three key tips for tackling this crucial space.
Commit To A Color Palette
Like any room, picking a specific palette to stick to is key before you invest in any paint, tile, or decor. Do some digging around on Pinterest for kitchens you'd like to emulate in terms of color scheme. That said, make sure the colors speak to your preferences specifically and aren't a trendy hue that you'll grow tired of in a few months. "We feel great about subtle multicolor details, and blues and greens rooted in white, grey, and cream palettes are wonderful," suggests Epstein. "Edgier designs are trending towards deep jewel tones, which are bold, but which we also love."
If You're Hesitant, Take Baby Steps
If you're not sold on the idea of covering your kitchen with teal or coral tile and paint, go ahead and dip your toe in. Pick tile or wallpaper with dominant neutral tones and small incorporations of color. Wallpaper is a great way to go if you're anxious about committing to a color. It goes on and off easily, and options these days are more affordable than ever. They also come in a variety of colors and patterns, so finding something a bit more subtle is totally possible.
You can also go with patterns that are more muted versions of an otherwise vibrant shade like bright blue or orange. Epstein suggests exploring backsplash tile for those with some trepidation with color. "Backsplashes are a wonderful, highly visible space to make a design statement, and we love them for interesting patterns and mosaics, or for interesting slabs that may be book-matched to your countertops and waterfalled to the floor for a super-cohesive, modern look," she explains. "If you love blue, put in a blue backsplash. If you love green, add it to your backsplash. If you want to vary off of a neutral palette, choose something like one of our fete patterns, which tastefully includes a variety of color details without giving precedence to any single tone."
If You're All About Color, Take A Giant Leap
Feeling fearless? Dive headfirst into your colorful kitchen by painting your cabinets a vibrant shade (or several), trying an accent wall, and/or highlighting the space with a brightly colored kitchen table. TIle is also a great way to go here, as well. "If you're feeling great about adding color, select colorful slabs for your countertops and islands to coordinate with your backsplash, and for your floor, choose a stone that is somewhere between light and dark, or a stone that has color or movement in it, or a mosaic," says Epstein.