How To Maximize Your Small Kitchen, According To An Interior Designer
Michaela Klenkova/Shutterstock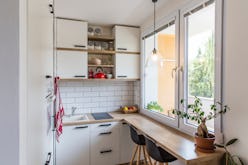 There's no such thing as the perfect home. No matter how gorgeous your pad is, it's likely to still present its own unique challenges, whether that be a shortage of closet space, a lack of natural lighting, or an open floor plan that forces you to define areas. Another super common obstacle is maximizing a small kitchen when you've got limited counter and cabinet space to work with.
Being stuck with a small kitchen can make it difficult for those who love to cook and entertain — but thankfully it's not a lost cause. By knowing a few sneaky tricks, you can transform yours into a space that not only functions better, but looks stylish, too. Enter Alessandra Wood, interior design expert and director of style at digital design service Modsy. Wood is both well-versed in helping others make their homes more inspiring and more user-friendly places —and knows the teeny kitchen struggle firsthand. "This is my life," she says. "I have about maybe 2.5 feet of counter space in a small San Francisco studio and I love to cook!"
If you feel limited by the real estate of your kitchen, don't fret. According to Wood, you can implement just a few tricks of the trade to make the most of it. Ahead, find six of her pro tips for creating your own dream kitchen — regardless of square footage.
Create A Prep Space
"If you want to actually cook in your tiny kitchen, reserve a small spot on your counter that fits your cutting board and make it your go-to vegetable chopping space, that you always keep clear," explains Wood. "This makes cooking feel like less of a hassle because you don't have to prep your prep space."
Invest In An Island
If prep space is scarce to come by in your kitchen, consider purchasing a rolling kitchen island, which offers you an additional surface, plus a little extra storage for pots and pans. And best of all, you can move out of your way when you're getting cramped. "When you need a bit more space, roll it out — or just leave it in place always, if you're like me," says Wood.
Get Pieces That Multitask
Sometimes the best way to avoid feeling suffocated in your small kitchen is by getting out of it. If you need more space for food prep, take a page from Wood's book and "opt for a dining table that can take some cooking action." Choose one with materials or finishes that can take a bit of a beating but will still look beautiful when you're sitting down for a meal.
Make It Fun
Beyond creating a kitchen that's functional, you also want the space to be aesthetically pleasing and fun. Get creative with color in the accessories to give the room a little more personality. "Add personal touches and pops of color with dish towels (I have Marimekko ones!), a teapot on the stovetop, and a small rug or runner," explains Wood.
Get Clever With Storage
For those lacking in cabinet, counter, and shelf space, take Wood's advice and stash a few things in your oven to keep your kitchen from getting cluttered. "I'm not talking your entire set of pots and pans," she elaborates. "It's a great place to stash a pan or two when not in use."
Light It Up
If your tiny kitchen suffers from lack of light, there's still a super smart way to brighten things up without taking up more space. "Install under-counter lighting to create a more pleasant atmosphere when cooking and prepping," suggests Wood. These sneaky little tools will lighten things up but stay totally out of your way.