These Chic Headphones Make The Perfect Gift For Your Jet-Setting Friend
Cornel Cristian Petrus/Shutterstock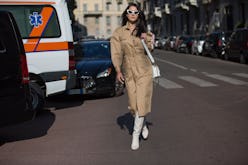 As anyone who's done their fair share of traveling knows, it's not always as glamorous as it appears on the Instagram feeds of the influencers — but with the right pieces, it can be a whole lot easier and more stylish. That said, if you're in the market for holiday gifts for the jet-setters in your life, there are a ton of goods that will take their future trips to the next level. And besides that, they'll make you the MVP this year.
There are a few things that make shuffling in and out of airports (or on and off flights) kind of a bummer. Besides the obvious jet lag factor, there's the discomfort that comes from wearing the wrong travel outfit (just because you're still trying to look cute), or the dull, parched skin that comes from the low humidity on the plane. And then, of course, packing is an ever-present issue, especially when you don't have the clever carry-on essentials that make everything so much more efficient.
The aforementioned travel struggles can actually help guide you to great gifts ideas for your jet-setting friends. Just think of the things that can make her trips more comfortable and chic at the same time. For example, puff-eliminating eye masks that are so discreet, no one will even know she's wearing them, or wireless headphones that are basically a fashion accessory. You can also think of things she can wear on the plane that are much more stylish than pajamas yet exponentially more comfy than jeans and heels. Want a few more ideas? See ahead for a handful of equally useful and cool gifts to give the globe trotters in your life.
Make her carry-on a standout with this metallic luggage from CalPack.
Not only are these super-powered hyrdrogel patches totally effective for getting rid of the baggage under your eyes, they're also clear, so you don't have to hide behind your sunglasses while you de-puff.
It always helps to have some backup battery, and this oil-slick power bank lets you charge up in style.
If ear buds aren't her thing, consider these sleek wireless headphones in a fun color, like baby pink.
Sweats that are actually chic? Yep, they exist. This sweat set isn't just super soft (for the most comfortable plan ride ever), it's actually tailored to look stylish, not sloppy. Pro tip: Get 'em in all black for an especially sleek look.
Long travel day? She can pack these luxurious leather and shearling slippers in her carry-on to feel extra warm and cozy during the flight.
Packing is so much easier with these mesh cubes that will help any jet-setter organize her stuff.
The cult favorite bag brand's latest product is a puffy laptop sleeve that's absolutely perfect for packing in a carry-on.
Since she'll be whipping out her passport pretty often, gift her a case that's chic and personalized. Cuyana's pebbled leather ones can be customized with a monogram for as little as $15.
Packing your skincare necessities can be a chore, not to mention the fact that it weighs down your luggage. Make the jet-setter's life a breeze with these handy pouches from IPO that include everything you need for the perfect glow in one travel-friendly pouch.