Hilary Duff Just Shared A First Look At The 'Lizzie McGuire' Reboot — & The Outfits Are Going To Be So Good
Michael Kovac/Getty Images Entertainment/Getty Images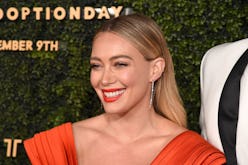 Ever since Hilary Duff announced at the 2019 D23 Expo that she would be stepping back into her iconic role as Lizzie McGuire, who's now in her 30's and living the dream in NYC, fans have been patiently waiting for a first look at anything from Disney+'s newest series. Well, as luck would have, Duff took to her personal Instagram on Oct. 29, sharing a snap that offered up a peek at Duff's Lizzie McGuire's style in the 2019 reboot. And though no embellished tees, platform sandals, or funky hairstyles were thrown into the mix this time around, the 'gram does make one thing clear: 30-something-year-old McGuire has some seriously strong sartorial skills.
Regardless of what you were doing on Tues. afternoon, it's very likely you saw or heard something about Duff's Lizzie-inspired Instagram, even if you don't consider yourself a die-hard Lizzie McGuire fan. There's just something so utterly fascinating about reboots — they tend to pull on everyone's nostalgic heart strings, and who doesn't love that?
If you grew up in the early 2000s, it's likely you found some comfort in watching Lizzie and her cartoon alter-ego go through similar teen experiences whilst trying to find their place in the world. Fast forward 15 years — the series officially ended in 2004 — and Lizzie (and her cartoon alter ego) are back, and though there will certainly be some big differences between the original and the reboot, one thing will remain the same: Lizzie's quirky style.
"Happy first LIZZIE day!!!!! NYC.....cue the rain 😏 ✌🏻 ☺️ 🎥 #lizziemcguire," the actor captioned her latest Instagram post. In it, Duff — er, Lizzie — is standing in front of the Washington Square Arch in New York City, wearing the most perfect fall uniform: a gingham-print skirt set by Racil, black patent leather boots with a chunky platform sole, and a yellow wool coat. It's safe to say 30-something-year-old Lizzie certainly knows how to layer.
In another shot from the NYC filming, Lizzie can be seen carrying around a giant stuffed alpaca (wait, what?), with a gorgeous croc-effect Parisa Wang bag slung over her shoulders.
Filming for the new Lizzie McGuire reboot has just begun, so you can expect a lot more behind-the-scenes snaps to appear in the coming weeks. Stay tuned!