The $8 Hair Product Hailey Baldwin Can't Live Without
Matt Winkelmeyer/Getty Images Entertainment/Getty Images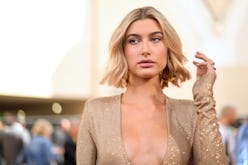 It's hard to argue against the fact that winter is tough on your hair. Cold air and harsh weather conditions can quickly dry out your ends, making them much more susceptible to damage and breakage. But with spring just around the corner, there's no better time than the present to give your hair a serious moisture boost. And that's why you'll definitely want to put Hailey Baldwin's favorite hair product on your radar ASAP. Not only is it incredibly hydrating, but it's very wallet-friendly, too.
In a new interview with Marie Claire, Baldwin opens up about her everyday beauty routine — and you'll be happy to hear the model keeps it low-key when getting ready. She follows the less-is-more rule when it comes to her makeup ("I like to look a little flushed and dewy," she says) and sticks to gentle, fragrance-free skincare products to avoid breakouts (hyaluronic-acid serum and SPF are her must-haves) .
Much like her skincare, Baldwin's hair routine is fairly relaxed. She uses the same shampoo as her husband, Justin Bieber, and doesn't spend a lot of time styling her locks, either. On most days, the model can be spotted in a perfectly tousled updo — and her key to achieving the nonchalant, pulled-back style is hiding at your nearest drugstore. The best part? It rings in at just under $8.
"On most days, I pull [my hair] back and use Mane 'n Tail leave-in conditioner as my hairspray to nourish it and prevent breakage but still look styled," she shared with Marie Claire. The model, who says she's taking a break from her usual (albeit, damaging) platinum hue, is proof that some of the best products on the market don't have to cost an arm and a leg.
If you don't already have Baldwin's go-to product on your shelf, now's the time to consider scooping it up. The non-greasy leave-in formula includes keratin, aloe, proteins, and herbs, all of which work to coddle, moisturize, and protect your hair in a pinch. In other words, it's the solution your dry, winter ends have been quenching.
Ready to copy Baldwin's signature texturized (and hydrated) hairstyle? Shop her favorite product, below.
Shop The Product