Hailey Baldwin Swears By This Tinted Lip Balm — & It's $5 At Target
Alberto E. Rodriguez/Getty Images Entertainment/Getty Images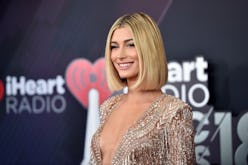 Frigid temps and winter winds are in full force, which means it's time to stock up on hydrating products to combat the drying effects of the season, including chapped lips. While reviewing products to incorporate into your winter-ready beauty routine, consider adding Hailey Baldwin's favorite lipstick to the lineup. The model has spent most of her time in Canada with husband Justin Bieber this season, so it's safe to say she's shifted her beauty routine around since departing from L.A. sunshine.
In an interview with Elle, Baldwin laid out a few of her must-have products, including a hyaluronic acid serum to enhance skin's bounce, a scalp and body scrub, and a $5 lip balm. That's right, the low-key model knows what she likes and often keeps it simple when it comes to beauty, swearing by Burt's Bees Tinted Lip Balm.
When she's not walking the runway for Versace or Off-White, Baldwin is usually traveling, and tends to keep her style pretty chill, opting for oversized sweatshirts, bomber jackets, and track pants. So the 22-year-old's less-is-more beauty mentality isn't a huge shocker.
"If I'm going out for the day, I like stains, like a lip balm that's tinted for a little bit of color," the model told Elle. With all of the tinted balms on the market, it might seem surprising that the top model swears by a budget-friendly option.
But it turns out Burt's Bees isn't the only bargain Baldwin can get behind. Last Sept., the model told Allure she's big on drugstore beauty, including steals like "Vaseline and Aquaphor-type things, leave-in conditioner, and [Neutrogena] makeup wipes."
As if Baldwin's laid-back demeanor and relaxed, off-duty style weren't enough to convince you she's the definition of a chill girl, perhaps her accessible, go-to beauty staple is. Available in six neutral shades, the moisturizing balm delivers sheer color and long-lasting hydration to combat even the most brutal winters. With a rich color palette ranging from pink to violet, these tints are 100 percent natural and free of parabens.
Are you ready to bathe your lips in TLC and a wash of color? Give those potentially drying matte lipsticks a rest for the remainder of the season and keep it low-key, putting hydration first. After all, Baldwin considers her lips to be her favorite feature, so they obviously deserve only the best. Shop the hero product below, and kiss flaky lips goodbye.