Here's How Hailey Baldwin Gets Beachy, Lived-In Texture
Jordan Strauss/Invision/AP/Shutterstock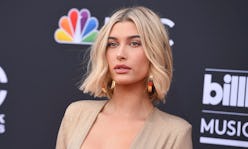 Achieving natural-looking waves is far easier said that done, especially if you don't have an award-winning hairstylist at your beck-and-call. The good news? All it takes to recreate Hailey Baldwin-worthy texture is the right hair products.
Celebrity hairstylist and OUAI founder, Jen Atkin, took to Instagram on Tues. to share her latest creation on Baldwin. Before the model set out for the Zadig & Voltaire show in a pair of baggy plaid pants, Atkin styled her formerly short hair into loose, undone waves. Likely the work of some impressively natural-looking extensions, Baldwin's golden-blonde highlights were enhanced even further with relaxed bends, beachy texture, and silky ends.
While her flawless waves may seem leaps and bounds beyond your hairstyling ability at first glance, a full breakdown of Atkin's steps prove just how easy the look is to recreate. Ahead, everything you'll need to get Baldwin's go-to hairstyle in a breeze.
Step 1
Atkin began by drying Baldwin's hair with Dyson's Airwrap Styler, her team shared in a press release. Though on the pricier side, the cutting-edge technology isn't anything like your average heat tool: It dries and styles your hair simultaneously — with no extreme heat. Atkin used the tool's 1.6-inch barrel on medium heat and speed for this particular look.
Step 2
Next, Atkin used a rattail comb to gently defuse Baldwin's curls. Opting for a fine-toothed comb instead of a heavy brush will ensure that your waves keep their shape (think: you don't want all your hard work from step one to go to waste).
Step 3
Step three is all about volume. Dispense a small amount of OUAI's Dry Shampoo Foam onto your fingers, then gently rub it throughout your roots. This formula from Atkin's collection will infuse your waves with Baldwin-worthy volume and thickness (and it smells great, too).
Step 4
Next up? Even more dry shampoo, according to Atkin. Adding an extra layer of texture, this time using a spray-on formula, will give your hair just the right amount of fluff. Spray the canister a good 10 inches away from your hair, and flip your head upside down to coat hard-to-reach strands.
Step 5
When it comes to the perfect lived-in waves, shine is everything. That's why Atkin developed the newest addition to the OUAI collection: the Hair & Body Shine Mist. Yup, this formula is safe to use on your body and your hair. The ultimate finishing touch, you'll want to use this mist whenever you need a boost of sparkle.