How This Designer Is Championing A New Era Of Glamour
Christopher John Rogers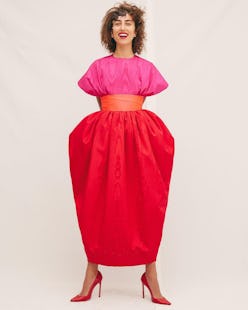 By definition, glamour is enchanting. In fashion, it isn't a quality that's tangible or specific to a certain silhouette, but you know it when you see it: Grace Kelly wearing Edith Head to the 1955 Academy Awards; Bianca Jagger partying at Studio 54 in, and alongside, Halston; Diana Ross, always. But glamour is by no means solely tied to wistful nostalgia — or sparkly sequins for that matter. Even in 2019 when altheisure and comfort continue to dominate fashion trends, the new era of glamorous style is still a prevailing theme in modern design. It's seen in iteration after iteration from some of the most iconic American designers, as well as translated by a newer crop of talent who arguably make feeling glamorous more relatable and attainable than ever before.
New York Fashion Week pillars like Tom Ford and Michael Kors have notably referenced the '70s, '80s, and '90s glam in their collections for decades; both notoriously helped to establish this off-the-carpet glamour both at their namesake houses, and during their stints at Gucci and Céline respectively. These two long championed the idea that you can be every bit as glamorous stepping off of an airplane as you can be at a black-tie event, and younger designers are continuing to grow and redefine the idea.
"I think everyone has a sense of glamour," says stylist and designer Jason Rembert, who launched Aliétte in 2019. His work is most closely tied to the uniquely bold and unabashedly unbridled style of celebrities like Erykah Badu and Ezra Miller, however Rembert says glamour isn't necessarily about the red carpet. "It can be expressed in many ways from nostalgic, classic dressing to more modern, edgy designs or even streetwear."
While Rembert says that he sees glamour as identity, fellow designer Christian Siriano calls it "a state of being." And considering Siriano's reputation designing for a diverse clientele, specifically women of straight and plus sizes, glamour seems like an aspirational quality in his designs as well as an inclusive one. When it comes to who fully exemplifies this, he references one of the most famous women to wear his pieces. "Michelle Obama is a perfect example of being elegant and glamorous but still approachable," he says. "It's never overly sexy or too aggressive, it's chic and timeless."
Siriano is far from the only American designer that would agree that the former First Lady is closely tied to what modern-day glamour means. And fittingly she's worn the aforementioned iconic Kors and Ford labels, as well as Carolina Herrera, a brand itself finding a new way to speak about glamour since designer Wes Gordon took the helm last year.
While the nearly 40-year-old brand's elegant ball gowns and crisp, collared shirts have offered a classic, romantic take on style, Gordon's latest Carolina Herrera designs feel fresh, joyful, and playful in a way that's as distinct to him as it is to the history of the brand. Considering other designers of the moment, like Brandon Maxwell — whose past runway has included sexy, sleek evening wear as well as cheeky Champagne handbags — and Rosie Assoulin — whose dreamy designs are recognized for their bright colors and unapologetically space-occupying volume — perhaps not everyone has the same vision for what glamour is. But they agree it's not overly serious.
This is an idea that also feels right at home with one of NYFW newest and most exciting stars, Christopher John Rogers. "I think people who really enjoy fashion and don't shy away from bringing their personalities and quirks into their outfits feel super modern to me," says the designer whose eponymous brand will show for the third time this NYFW. He calls out celebrities such as Tracee Ellis Ross, Róisín Murphy, Lizzo, Rowan Blanchard, and Violet Chachki who embody this idea. "They understand fashion and its relevance to the lives we lead, but also have a heavy dose of irreverence, which feels fresh."
For Rogers, as well as the other designers, glamour is a part of their brands' DNA. And yet the reason its definition remains so abstract is because feeling glamorous is not really intended to fit a certain mold, there's no one equation to create it. "For every Cristobal Balenciaga or Lacroix reference there's always a reference to the Muppets or vintage aspic dinner photographs on the same mood board," Rogers reveals about his own inspirations, sometimes leading to stunning dresses with neon green plumes or body-length-sized ruffles.
It's this thinking that suggests glamour can be found in the most ordinary or obscure places. And even if you're bound to see it on a Fashion Week stage, it doesn't have to be tied to occasion, access, a specific price point, or even simply within the collections of the aforementioned designers. "Waking up and putting on one's favorite item(s)—a pair of jeans, a dress, a shade of lipstick or jewelry—that makes you feel special," add Rembert, "is part of being glamorous."
Shop some of the iconic and new-guard designers of glamour, below.