Scarlett Johansson's Go-To Red Carpet Top Is Very Unexpected (& Probably In Your Closet)
Vittorio Zunino Celotto/Getty Images Entertainment/Getty Images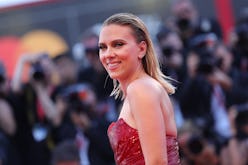 This week, A-listers flocked to Italy to celebrate international cinema — and glam it up a bit, too. Yes, celebrities like Liv Tyler, Iman, and Ruth Negga brought their A-game to the 10-day affair, serving up plenty of inspiration for holiday party season. That said, the daytime junkets and parties called for more reserved ensembles that delivered plenty of worthy looks to emulate this fall as well. In fact, Scarlett Johansson's casual outfits at the 76th Venice Film Festival were particularly inspiring in that they featured a trend you've probably invested in for years: the striped top.
Yes, the playful piece that's been a staple in daytime wardrobes for years (nay, decades) made quite a splash in Italy in that it was worked into two of Johansson's looks — in quite different ways. The first appearance of stripes came on the second day of the film festival (which runs from Aug. 28-Sept.7). The Avengers star attended a photo call to promote her latest film Marriage Story in a blue and black cropped striped polo with a white collar, high-waisted belted trousers, and strappy black sandals. Her beauty look perfectly complemented her throwback ensemble. The actor wore her hair in a deep part with soft retro ways while her make remained natural and radiant save for bright pink lips.
The next day, Johansson reached for a striped top again as she boarded a boat to leave the Lido Beach. This time her top (and ensemble) felt a bit more laidback in that it was a simple white and black striped tee. The star tucked the tee into high-waisted black slacks and red flats. While a different approach to her previous striped look, the outfit delivered the same retro vibes.
Now, just because Johansson opted for more toned-down pieces during the day, doesn't mean she didn't glam things up at night. The red-carpet darling stunned in a red strapless floor-length gown that aligned with the vintage theme she followed all week. The sweetheart neckline, shimmering fabric, and thigh-high slit up the leg made the dress a perfect contender for Old Hollywood glam. (While the dress was a throwback, Johansson's hair was definitely current in that it styled in the uber-trendy slicked-back wet look.)
Interested in emulating Johansson's striped ensembles for fall? Ahead, some worthy tops that'll take your style back a few decades but keep you saddled in chic territory.