These 1999 Runway Looks Are Surprisingly So Relevant Today
Fairchild Archive/Penske Media/Shutterstock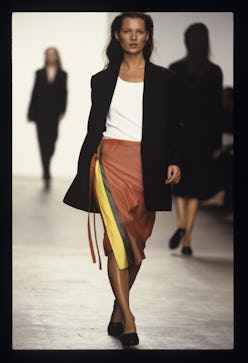 The swirling gyre of fashion seems to drag you back to the same trends decades after you first cleaned them out of your closet. In the rush for new, it's often a backwards gaze that helps to guide the future. With another decade soon coming to an end, it feels like an apt time to look back — all the way to the fashion week runways of 1999 — for a reminder of how far we've come, but also how much we still look to the prolific designers of that era for inspiration (some of whom are still trailblazing today).
While certain styles have yet to make it back around again — and may that forever remain true in the case of low-rise pants — there are many familiar pieces that would look right at home: leather separates, cool sportswear, and cut-out dresses all included. Though modern runways themselves are often much more about spectacle and how things look through the lens of an iPhone, but as the photos below prove, the Spring/Summer and Fall/Winter 1999 collections are more relevant today than you might assume upon first thought. Take a turn down the catwalks of past decades below, then shop modern must-have pieces inspired by each.
Chanel Haute Couture Spring 1999
Model Devon Aoki walked the couture runway in a matching set designed by the late Karl Lagerfeld. For a modern alternative, opt for Staud's coordinated pink high-rise shorts and toplet.
Calvin Klein Spring/Summer 1999
Calvin Klein's iconic designs are remembered for being both sleek and relaxed. In 1999, an aesthetic often associated with the brand's one time publicist Carolyn Bessette Kennedy. Khaite's collections have a modern hold on the same polished look.
Chloe Fall/Winter 1999
As the romantic trend comes back with full force, look to Brock Collection to help you test out this look for the modern moment.
Versace Couture Fall/Winter 1999
In many ways you can see reflections of Versace's late-'90s and early aughts collections in the houses' pieces today, but there are also up-and-comers masterfully embracing the brand's sensual-cool look of the time.
Prada Spring/Summer 1999
Ask any modern hypebeast for some of their historical sources of inspiration and Prada's Spring/Summer 1999 collection will be there, guaranteed. The iconic Prada Linea Rossa was even re-launched in 2018 to much buzz.
Michael Kors Fall/Winter 1999
It's easy to forget that Michael Kors was working as creative director at Céline from 1997-2004 in addition to designing his own collection. But looking back at his collections from the time, there's a very linear tie to the modern looks of the post Phoebe Philo-era including at the much adored Bottega Veneta.
Louis Vuitton Fall/Winter 1999
Bucket hats, pops of green, and leopard are all trends any fashion insider might mention when talking about 2019. But, as proven by the Louis Vuitton runway of the time, they were also big way back when.
Helmut Lang Fall/Winter 1999
New York has always fostered a crew of emerging downtown designers that bucked from the stuffier fashion traditions. Helmut Lang helped to establish that space and culture, and now brands like Vaquera, Eckhaus Latta, and Collina Strada are following suit.