5 Pinterest Tricks That Make Decorating Any Small Space Easy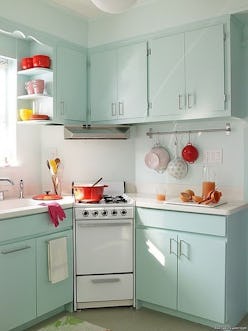 Does your box-like studio feel more like a curse than a token of your independence? As LA renters far too familiar with apartment-style living comparable to an influencer's walk-in closet, we took to Pinterest for some insight into decorating a bachelor-size dwelling both strategically and aesthetically. (Yes, it's possible.) The result: With a little creativity and even less square footage, a small space can go a very long way—no matter what your budget may be.
Creative Kitchen Storage
Trick: Get creative with new storage solutions. A hanging rack for pots and pans keeps kitchen counters clutter-free.
Get The Look
Range Kleen Expanding Pot Rack in Stainless Steel, $25
Small-Scale Gallery Wall
Trick: In a small studio or apartment, curate a mini gallery wall to segment one area from the next.
Get The Look
Kimberley Dhollander Bubblegum Art Print 13x19, $59
DIY Dining Nook
Trick: Too many chairs in a small dining area can feel clunky and distracting. Building your own bench seating is surprisingly easy and so practical.
Get The Look
CB2 Odyssey White Dining Table, $199
Screen Room Divider
Trick: When privacy isn't inherent, invest in a screen divider to create a new room within your home.
Get The Look
Ore International 4-Panel Weave Screen, $75
Fold-Out Mounted Desk
Trick: Need a home office but short on square footage? A fold-out mounted desk is quite literally the best hack, but maybe we're biased.
Get The Look