Unbelievable 5-Star Hotels Around The World That Cost Less Than You'd Think
Ari Perilstein/Getty Images Entertainment/Getty Images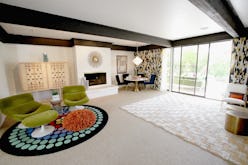 Budget is understandably one of the major roadblocks that can keep one from going on a truly luxe vacation. But, did you know that there are quite a few affordable five-star hotels all over the world that can make your getaway dreams come true?
Yes, in addition to affordable luggage and cheap flights, there's a plethora of wallet-friendly, high-end, amenity-packed places to lay your head, no matter where your wanderlust may take you. In fact, so often, the secret to affordable travel is all about — as the saying goes — location, location, location. You see, some cities are simply more economical than others, which makes staying in a cushy place a lot more accessible. Additionally, when you look for off-peak dates and days of the week, it can dramatically reduce your rate.
To help prove the point that going big on vacation doesn't have to cost you big, ahead you'll find a handful of spots that will have you posted up like royalty — while keeping your bank account in order. Check out these seven five-star hotels across the globe that can cost you less than $300 per night — so you can have some cash left to indulge in all the shopping and food your heart desires.
All the midcentury desert vibes abound at stylish staycation spot Parker Palm Springs. You'll love this oasis for the variety of pools on the premises (there are three), chic poolside cabanas to sip your beverage du jour, and variety of activities available — including tennis, pétanque, and croquet. Plus there's glamorous decor at every turn, at the starting price of $199 per night.
Located in Marrakech's enchanting medina, Les Jardins de la Koutoubia is known for its top-notch service, which includes valet service for shopping, childcare, and on-site barber shop. Besides that, the hotel has authentic Moroccan decor, heated pools both indoors and out, and lush gardens. Oh, and it starts at a mere $184 per night. Now, that's a bargain.
The Four Seasons Mexico City is smack dab in the middle of arguably one of the most colorful, artistic cities in the world. Suffice to say a stay here is a stunning, private, and totally luxurious retreat, sans the high-end price tag (rooms start at $227 per night). Guests can get cozy in front of a fire pit on a garden patio, grab an authentic Mexican pastry in the morning at the in-house bakery, or sip on a Mezcal cocktail at the renowned bar.
Bali's Anantara Seminyak has everything you'd dream of in an Indonesian resort: a beachside location, modern-meets-traditional Balinese decor, private terraces and jacuzzis, and a spa that boasts treatments inspired by indigenous wellness rituals, like kerokan therapy and floral foot massages. And you can have it all at the low-low price of $218 per night.
Prepare for full-on Spanish elegance at Madrid's Gran Meliá Fénix, where you can experience the country's capital in posh amenities that include on-site access to one of the area's most beloved and swanky eateries and martini bars, Thai-inspired spa treatments, classically sophisticated interior decor, and close proximity to Madrid's must-see landmarks. All for $216 per night. Yes, please.
What is a list of affordable five-star hotels without at least one Vegas hotspot? But when it comes to places that pack the most luxe bang for your buck, there's no better crash pad than The Cosmopolitan. For the bargain price of $140 per night, guests get access to — literally — dozens of eateries (including a hidden pizza joint, outposts of Momofuku and Beauty & Essex, and so much more), pools, shops, a seasonal ice rink, multiple venues to catch a show, and, of course, a spectacular casino to win (or lose) cash.
Athens' The Margi is a boutique hotel that boasts a farm (from which the in-house restaurants source some seasonal ingredients), a holistic spa, a picturesque pool from your wildest Mediterranean dreams, and rooms with a chic minimal design aesthetic. With prices as low as $240 per night, this has the makings of a dream vacay come true.