Fenty Beauty's New Highlighter Shade Is One You've Already Seen On The Red Carpet
Fenty Beauty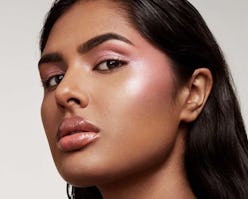 Surprise: After just dropping its brand-new creamy concealer a mere few weeks ago, Fenty Beauty is at it again. So far this year, it seems like the cult-fave brand can't stop coming out with fresh products — and if you count yourself amongst its numerous fans, you couldn't be happier about it. This time around, it's dropping new colors in two top-selling products, including a couple new shades of the Fenty Beauty Killawatt Freestyle Highlighter. Get ready to mark your calendar to ensure you beat the crowds.
Just when you thought you'd stocked up on everything new from Fenty Beauty after snagging its new, already best-selling concealer, the brand is bringing you some new shades in some of its other top-selling buys. On Feb. 12, Fenty Beauty is debuting two new hues of its popular Killawatt Freestyle Highlighter, and three fresh shades of its much-loved liquid lipstick, Stunna Lip Paint.
When the new colors become available on that date, you'll be able to get your hands on them at Fenty Beauty and Sephora's website, and in-store at Sephora and Sephora Inside JCPenney. And if you've been loving lots of Rihanna's latest beauty looks, you'll want to be among the first to snag these soon-to-be favorites — because it turns out she's already teased these shades IRL.
The Killawatt Freestyle Highlighter, $34, will soon add two new pastel-inspired colors to its range, Wattabrat and Chillz. The former, a multi-dimensional baby pink shimmer, may look familiar to you. That's because Rihanna donned the demure cream-powder hybrid on the red carpet at the 2018 MET Gala (who could forget her statement-making look).
The second shade, Chillz, is an almost-metallic baby blue hue, with tons of super-fine shimmer for a dazzling appearance day or night. As the name suggests, Killawatt Freestyle Highlighter is made for use wherever you want to glow, so glide the smooth pigment across your cheeks, eyes, cupid's bow, collarbone — you get the idea.
If you're a fan of the line's liquid lipstick, Stunna, you'll also be excited to hear that three new hues will be joining the existing five colors on Feb. 12: Unlocked, Unattached, and Undefeated, $24 each. Rihanna was already spotted wearing Unlocked, a bold pink, to a Fenty Beauty event in Sept. 2018, so it's already bound for best-selling status — but Unattached's bright coral color and Undefeated's deep purple are no less appealing. And considering each shade is tirelessly tested by Rihanna herself to ensure it's ideal for every skin tone, you may as well snag all three of the long-wearing lipsticks.
Preview each of the pretty new shades below and on Fenty Beauty's site now, then go ahead and program your calendar alerts so you can shop the fresh highlighters and lipsticks when they officially drop.