Deborah Lippmann's New Nail Polish Collection Will Have You Dreaming Of Spring
ImaxTree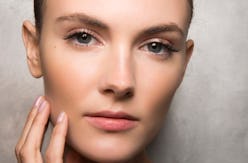 A small moment of natural beauty inspired Deborah Lippmann's Spring 2019 collection. "I was in California this summer and it was an incredibly sunny day, you know... when rays of sunshine bounce off mirrored windows and zigzag their way through the streets," Deborah Lippmann — celebrity manicurist and founder of her eponymous nail color brand — tells TZR in an email. "You could feel the energy that day, it felt like a fresh start. Everything around me had a pink cast and I thought, I want to capture those radiating colors and put them in my bottles."
Creating a pastel collection for spring is nothing new. But trying to bottle up light itself — in the form of nail color? That may sound like a tall order, yet Deborah Lippmann's upcoming Leave A Light On collection manages to pull it off. The nail colors tell the story of an early morning sunrise start to finish, from the first pink light to a pastel turquoise sky.
The collection drops February 2019, bringing five new dawn-colored shades with it. Leave A Light On begins with the shade "Love Lies", a buttery rose crème polish, followed by a glowy pale pink called "Delicate". After those first two, the collection promptly transitions through the morning sky's light show — a silver mica and gold pearl-swirled pink polish fades into an incandescently pale blue, then finally settles into "I Like It Like That", the collection's shifting shimmer-charged turquoise.
Each shade will retail for $20 and will be available on Deborah Lippmann's website as well as select Deborah Lippmann salons and retailers. Like the rest of the Deborah Lippmann nail color line, the colors are vegan, not tested on animals, and certified as 7-Free — aka free of seven potentially harmful chemicals like formaldehyde and toluene. Better yet, the nail colors use the brand's Gel Lab Pro Color formula; a dual-patented recipe that mixes keratin, biotin, and rice proteins with other ingredients that help the color stay shiny and chip-free.
Make sure to watch Deborah Lippmann's website for the February release. Before then, keep scrolling down to browse all five sunrise-colored shades from the Leave A Light On collection. Picking a favorite is tough when the five work so well together, but bets are on that the unique, satiny shade "Radiate" (aka mid-dawn) will become a cult hit.