The Hair Accessory Trend Just Got An Unexpected Update At Rodarte
Michael Kovac/Getty Images for JNSQ Wines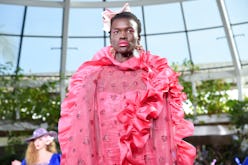 At this point, everyone is fully aware hair accessories are having a moment. Presently, it seems that dainty ribbons and barrettes are leading the pack (according to the red carpets of late) but, come fall, the floodgates will bust wide open. Yes, this colder months will see fall hair accessories go big — very big —and touch on some of the major hair trends you most likely loved as a child. Everything from oversized floral headbands (hello, Carrie Bradshaw) to butterfly accents and sweet child-like bows are fair game for fall — just ask the team at Rodarte.
The California-based brand, who made a splash last season with its updated spin on the traditional flower crown, has always been a fan of ethereal accents and silhouettes. This season, the team took its love for hair accessories to a new level by making it a veritable free-for-all. Seriously, no stone was left unturned as the models' soft, brushed-out waves were adorned with cascading flowers, floppy oversized hats, logo-encrusted hair clips, and stunning butterfly hair installations.
"The look encapsulates the old Hollywood sophistication of full-bodied textured waves with a nod to the '70s — think Jerry Hall's signature flowing hair — paired with beautiful composure and elegance using delicate adornments strung throughout," says Odile Gilbert, Sultra Hair Lead for Rodarte.
In fact, every model at Rodarte's A/W 2019 show in Los Angeles donned a different hair or headpiece to complement the equally glamorous glittery makeup (dreamed up by James Kaliardos for NARS). Bedazzled berets, floppy wide-brimmed hats, dazzling fedoras, oversized floral pieces, and large branded hair clips were all on display, leaving no head untouched. According to Rodarte founders Kate and Laura Mulleavy, the hair and makeup looks were meant to complement the collection's "Hollywood glam" theme that was inspired "by musicals throughout the decades," beginning with the "1930s all the way through the chic 1970s."
That said, one couldn't help but notice that the hair pieces touched on the nostalgia of the mid-to-late '90s and early '00s, as well. The big bows, flower headbands, and butterfly accents in particular felt like supersized versions of the accessories worn by every child and teenager in the early millennium. Could they be making a comeback via more elevated, sophisticated versions? Rodarte seems to think so.
Ahead, take a look at the large-and-in-charge accessories that stole the Rodarte runway — and will take hair by storm, come fall.
Flower crowns have officially expanded past the playground (and music festival venues) and into hairstyles everywhere this year.
Remember those butterfly clips you used to wear habitually as a kid? By the look of this fluttery headpiece, it seems they might be making a comeback.
This bow/flower hybrid blends two long-embraced hair adornments into one statement-making piece that should be replicated in the coming months.
This floral headband screams Carrie Bradshaw. It's also the perfect adornment for those with short, cropped hair.
The oversized floppy beach hats from your high school days are back with a classy retro twist that's more "midnight lounge" than "beachside cabana."