The Hair Clip Trend Should Be Your New Secret Weapon
Pixelformula/Sipa/Shutterstock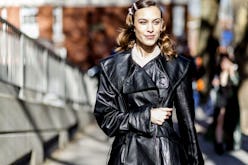 Headbands, bows, barrettes, clips, pins, scrunchies — as long as there have been hairstyles, there have been accessories to coincide, it seems. And though each comes with its own designated aesthetic (headbands will forever be a nod to Blair Waldorf's Upper East Side style and scrunchies of '80s sitcoms past) there will always be a place for them atop heads. As of late, there has been a resurgence of clips and barrettes in a smattering of bejeweled and sleek metal iterations and the results, as witnessed on Instagram, are outfit-altering. Worth noting: This hair clip trend is particularly useful while throwing together a holiday-appropriate outfit.
Take a black velvet dress up a notch with the quick addition of a pearl-encrusted pin to pull your front layers back. Give extra elegance to a silky slip dress by throwing on an architectural rose gold clip. And after festive times come to an end? Well there's no need to retire your baubles, think of the hair clip as a canvas to express your artistic inclinations and run free. There are a refreshing number of brands elevating and reimagining the art of clip design, but one current favorite worth checking out is Valet; their handmade resin hair accessories come in charming shapes like seashells, and the barrettes are spackled in glitter and bedecked with brightly-hued beads and balls.
All this to say, if you're looking for a quick, effortless, and affordable way to make your look feel unique to you, then invest in the hair clip trend and join the fun.
A stunning designer barrette is the perfect holiday gift for your accessory-obsessed friend. Try a style with rhinestone detailing to truly shine.
Sometimes all it takes to give your look an extra boost of personality is a dainty clip in a color that matches your outfit. Keep things simple with a pastel-hued matching set.
Create instant glamour witha pearl-embellished clip. Valet's mixed materials clips will take that pearlescence and add an extra dose of fun.
Who said anything about keeping it to just one clip? Go wild and try it out in a rainbow pallette. Try styling a green bedazzled clip for a festive holiday pick, then layer on other clips framing your face.
Since short hair isn't easy to put up or pull back, a clip makes for the ideal accessory. Skip the pint-sized ponytail and tuck your hair back on both sides.
Behold a sweet, simple illustration of the power of a pretty pin. Simple yet effective, petite bobby pins stylishly tame flyaways and easily add a touch more polish to your ensemble.
For a slightly unexpected take on the trend, slide your pin behind your ear rather than in the front. It will keep your hair out of your face in a purposeful and fashion-forward way.
Skip the hair tie and secure a braid or pony tail with a sturdy metal clip. It's not the most expected way to try the trend, which is part of what makes it feel especially fun.
It takes two (hair clips to make an outfit effortlessly cuter). If you want your outfit to shine, keep it simple in the hair department and opt for sleek silver clips.