The Instagram Color Trend That Every Influencer Is Trying For Fall
@maria_bernad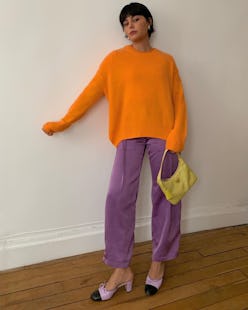 If you cringe each time your iPhone spells out just how many hours you spend on Instagram each week, you're not alone. But there's far more to the platform than mindlessly watching what your friends are up to. If you're into fashion, you probably use the app to spot the latest trends, or maybe even to find inspiration from creators like stylists, influencers, and editors. Here's a pro tip: Besides all the save-worthy shoes and bags, you'd be smart to scope fall 2019's color trends on Instagram, since the app makes it easy to notice when a certain tone is picking up momentum.
This year, instead of the typical deep autumnal hues, bold pigments are dominating, offering an exciting new approach to cold-weather dressing. Some of the flowery colors you might typically wear in the spring and summer, like lilac and light yellow, are now fair game for the colder months. Looking back to the Fall/Winter 2019 runways, you'll see exactly how these vivid colors made their way to the popular app. Sies Marjan's collection was a rainbow of ready to wear, JW Anderson incorporated bold pops of bright yellow, and even minimalist favorite Sally Lapointe showed a head-toe-toe lavender snake print ensemble.
So, what blues, pinks, and purples should you incorporate into your fall lineup? Ahead, see the hues currently dominating on IG that will make you rethink your usual burgundy and cognac palette.
Pale Teal
Teal works well all year 'round, but a lighter tone is a fresh approach to for fall. If you're eager to embrace bold tones twofold, try contrasting the hue with a pop of pink. Alternatively, if you want to ease into the bright color, opt for accessories like a minty headband or bag.
Lavender
Though lavender is a color that encapsulates spring, consider giving it a test drive this fall. For a trendy monochromatic ensemble, pair a lavender piece with a more fall-ish dark purple. Or try mixing a punchier shade with seasonal plaids or simple neutrals.
Tangerine
At first tangerine may feel like a tricky hue to incorporate into a fall palette, but it actually pairs seamlessly with warm tones, like maroon and brown. The citrusy color looks rather polished coupled with a blazer, so consider it a work-approved option.
Cherry Red
Fall is usually the time for maroon and burgundy, but this year try a bright red instead. For a sophisticated approach to the bold color, style it with a subtle fall print in a coordinated tone. Then, when the holidays roll around, red will easily coordinate with your more festive outfits.
Mellow Yellow
A rich, buttery yellow doesn't exactly scream fall, but its warm tone makes it ideal for adding a certain coziness to your outfits. If you're feeling extra daring, wear the color head-to-toe. For a more casual feel, couple a cool wide-leg trouser with a printed turtleneck.
Hot Pink
You probably first associate the color with Barbie or Mean Girls, but hot pink can actually be a refined color to play with. It is a surprisingly popular trend for fall, with all sorts of influencers eschewing its childish reputation. To style it in a way that feels fresh, try contrasting with bright green, blue, or even red — the clash is what makes it especially cool.