7 Fall Trends Your Most Fashionable Friends Are Already Eyeing
Pixelformula/SIPA/Shutterstock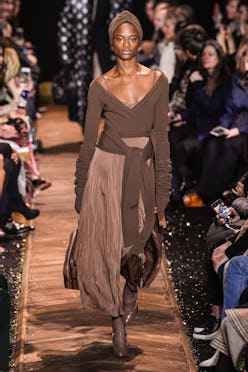 You see fall clothes in spring but they're available in late summer — yeah, that might seem confusing. Pre-fall appears on the shelves starting in March, coats go on sale by August. Even the pros get lost in the speedy fashion cycle sometimes. But, with the runways of New York, London, Milan, and Paris still completely fresh in the minds of those lucky enough to sit front row, all of that confusion fades away because there's no mistaking the next big thing. If you're convinced that six months out is too early to start thinking about your wardrobe, Fall/Winter 2019's top fashion trends will get you excited enough to change your mind (and to start saving up for those big ticket buys ASAP).
Though each of the major cities on the fashion calendar serves its own purpose (New York is the place to spot cool indie designers, London quirky-cool fashion trends, Milan is all about luxe accessories, and Paris home to the most over-the-top shows), after all is said and done, there are certain similarities each season that tie them all together. Below, you'll find a little intel as to exactly what those uniting styles were.
What stands out about each of this season's biggest trends is that they all uniquely speak to a woman's role in the world we live in. When "self care" is a topic on the tip of everyone's tongue, you'll find cozy, luxe styles that allow women to embrace the idea that fashion is about what makes you feel good when you put it on. But, at the same time, trends like bright colors and edgy leather speak to the fact that women don't need to blend in or conform to any societal standards — stand out however you choose to.
Read on for your breakdown of the seven trends to keep an eye on because before you know it, you'll be shopping for the ones that speak to you.
1. Blanket Dressing
When the weather starts to cool off, there's that all-too-familiar dread of having to get out from under your covers. Well, your favorite designers helped solve the issue once and for all by sending styles down the runway that might as well double as comforters. Patchwork quilting, crochet, and a bevy of padded pieces stretching well beyond the puffer coat all ensure you'll be cozy in the months to come.
New York: Rachel Comey
London: Burberry
Milan: Gucci
Paris: Marine Serre
2. Lots Of Leather
It's not just about the classic bomber anymore. Leather head to toe — in a surprising array of colors, no less — is the way to go for fall. It's up to you whether your look of choice will be a full-length trench or a coordinated set with a '70s vibe, you can't go wrong either way.
New York: Sally LaPointe
London: A.W.A.K.E.
Milan: Bottega Veneta
Paris: Alexander McQueen
3. Good Goth
In New York, futuristic all-black looks were a popular choice for designers who leaned heavily on '90s-era punk and Matrix vibes. In Europe, the goth aesthetic embraced a slightly more feminine feel with major brands including Prada and Simone Rocha switching their typically colorful designs for something darker.
New York: Dion Lee
London: Simone Rocha
Milan: Prada
Paris: Balenciaga
4. Sharp Suits
2019 is the year of the suit. Whether it be menswear-inspired silhouettes or a tucked-and-trim skirt set, fashion month's top runways all featured their own take on suiting. Especially notable was a number of runways that added extra details like exaggerated shoulders or a coordinated vest. If you haven't invested in a suit just yet, you'll want to before fall rolls around.
New York: Boss
London: Rejina Pyo
Milan: Alberta Ferretti
Paris: Altuzzara
5. Highlighter Hues
Usually, fall heralds in a slough of jewel tones: burgundy, emerald, and amethyst. But in 2019, there's no color too bright to try. In every city runways were spiked with pops of neon, worn both as part of a monochromatic look and color-blocked in unexpected ways.
New York: Sies Marjan
London: JW Anderson
Milan: MaxMara
Paris: Nina Ricci
6. Baby Bags
Just when you thought your handbag couldn't get much smaller, this season, brands turned to bags that can barely fit more than a stick of gum (Jacquemus' teeny-tiny bag even became it's own meme). At Fendi, these itty-bitty bags were layered with larger styles, which may be a bit more of a practical way to tackle the trend.
New York: Brandon Maxwell
London: Peter Pilotto
Milan: Fendi
Paris: Jacquemus
7. Down To Earth
So neon isn't quite your thing? The good news is that soft neutrals were also a major runway trend. Rich browns, taupes and beiges worn head to toe (or contrasted with a pop of color as at Victoria Beckham) feel especially luxe. Consider investing in a trench coat if you haven't already for an easy way to test out the trend.
New York: Michael Kors
London: Victoria Beckham
Milan: Jil Sander
Paris: Chanel