Elle Fanning Just Made A Convincing Case For This Bold Shoe Trend
John Phillips/Getty Images Entertainment/Getty Images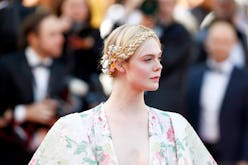 The 2019 Cannes Film Festival is here to cure any post-Met Gala blues, offering up plenty of beautiful red-carpet moments and equally covetable street-style outfits for you to fawn over. One notable name who's nailed every single look since the event kickoff on May 14? Elle Fanning, whose 2019 Cannes style has been defined by two things: über-voluminous, princess-inspired gowns and bright-red heels.
Fanning has made headlines for her impeccable style for quite some time, but 2019 is her year. The actor has officially reached fashion icon status, and if she isn't yet on your must-watch list, now's the time to add her. From her epic 2019 Met Gala look to her easy, effortless off-duty outfits, the 21-year-old simply can do no wrong — and her always spot-on dressing approach is perhaps most evident in some of her recent French Riviera outings.
Exquisite gowns are her go-to while attending the 2019 Cannes film premieres (something she's doing daily, because she's a member of the festival's jury this year), but strikingly bold shoes have become a fixture in many of her off-duty looks, specifically, crimson-colored heels with dainty detailing.
On Tues., Fanning was photographed leaving the Martinez Hotel in Cannes, presumably en route to another star-studded affair. For the occasion, the actor stunned in a vintage-leaning two-piece set, consisting of a '60s-inspired shift dress and matching overcoat, which she paired with red slingbacks that truly popped against the frock's neutral tones.
On May 20, Fanning was seen leaving the same hotel, this time wearing a crisp white shirt dress and a refined black blazer that she casually tossed over her shoulders. Coordinating white sunglasses and a black Prada tote added a touch of refinement, but ultimately, it was her sparkling ruby-red heels that proved to be the true outfit MVP yet again.
It's no secret that a bright-red lip can instantly transform an entire look. And now, Fanning has officially found another simple (albeit slightly bolder) way to take your outfit from zero to 100 in mere seconds: by slipping into a pair of crimson shoes.
Ahead, The Zoe Report rounded up the most covetable red shoes on the market, all of which pay subtle homage to the styles Fanning has worn in France.
Shop The Look