Elle Fanning's Met Gala Look Was Amazing — But Her Nails Were The Real Stars
David Fisher/Shutterstock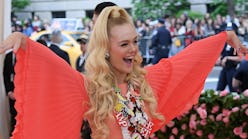 You probably had your own predictions of which stars would dazzle at this year's Met Gala. However, no one could've seen Elle Fanning's look — or, more specifically, Elle Fanning's 2019 Met Gala nails — coming. With a cascading I Dream of Jeannie ponytail and a coordinating Miu Miu outfit, the actress wowed onlookers by flaunting neon nails accented with dangling vintage charms.
The perfectly campy look was created by celebrity manicurist Mar y Sol Inzerillo, also known as Nails by Mar y Soul. (If that name rings a bell for anyone who doesn't keep up with the nail industry, it may be because you're remembering the $2,000 manicure she created for Gigi Hadid.) "Elle is the definition of camp. She wanted an expressive, bold look and we went for it," reads a quote by Inzerillo in a press email. "We started with essie's strike a rose, a neon hot pink with a demi-matte finish, from the new summer 2019 collection."
Just having electrifyingly bright nails wasn't enough for the actress, though; the duo went the extra mile for this year's theme. "Then, each almond-shaped nail was pierced and adorned with fun vintage charms, from french fries to Bubble Yum and more!" Inzerillo added. "The end result was a show-stopping moment on tonight's pink carpet."
Although you'll have to supply your own charms, you will be able to soon get your hands on Fanning's nail color. Essie's strike a rose nail color will be available to purchase this May — along with the rest of essie's summer 2019 collection. And for a red carpet look, the nail color is welcomingly affordable: One bottle of the neon pink nail polish will only cost you $9.
Fanning's stylist Samantha McMillen also gave the full rundown of the inspiration behind the entire Met Gala look to Vogue, citing '70s Barbie dolls as an inspiration for the ensemble. And while you may be more likely to wear Barbie-esque Miu Miu than to ask your manicurist to pierce your nails, Fanning's look is one to remember for years to come; and definitive proof that the right manicure can take your outfit to a whole new level.