The Top-Rated Drunk Elephant Products Reviewers Can't Stop Talking About
Drunk Elephant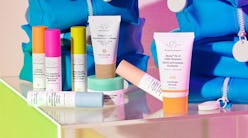 Realistically, you know that there can only be a few skincare gems that make up Drunk Elephant's top-rated products list. That's the nature of the game. Still, though — which ones could even be the best of the best? With more than 800,000 followers on Instagram, perpetually escalating cult popularity, and a recent $845 million purchase by beauty giant Shiseido Co., Drunk Elephant's skincare line boomed throughout 2019, paving the way for clean, social media-savvy brands everywhere.
It seems like every single product the brand releases garners a fan-generated buzz around it, too, whether it's a vitamin-rich eye cream or a virgin facial oil with close to 1,000 perfect reviews at Sephora (seriously). But to really take a look at which pieces are the most popular with shoppers — and deserve a spot in your own skincare routine — The Zoe Report reached out to Drunk Elephant to discover which products are currently top rated on its very own website.
And yes, some of the most highly rated picks may surprise you. Ahead, the 11 top-rated Drunk Elephant products, according to the beauty brand's own website.
Virgin Marula Luxury Facial Oil — 4.8
Believe the hype. Drunk Elephant's cult-famous, 100 percent unrefined Marula kernel oil wins a top-rated slot with a nearly perfect 4.8-star rating out of 5.
T.L.C. Framboos Glycolic Night Serum — 4.8
Surprise, surprise — Drunk Elephant's iconic T.L.C. Framboos serum scored a spot on this list. The resurfacing gel has won a 4.8-star rating from more than 600 reviews.
Juju Bar — 4.8
Drunk Elephant's cleansing bar also lands itself a 4.8 rating with customers, thanks to its clay, Marula oil, and bamboo powder formula.
Pekee Bar — 4.8
Likewise, the moisturizing Pekee Bar also has a 4.8-star rating — and tons of glowing reviews.
The Littles — 4.7
A $130 value, this $90 set lets you sample your way through an entire Drunk Elephant skincare routine. (No wonder it has such a high rating.)
Lala Retro Whipped Cream — 4.7
Another 4.7-star product, Drunk Elephant's Lala Retro Whipped moisturizer lives up to its award-winning, cult-famous status.
Protini Polypeptide Cream — 4.7
Drunk Elephant's website notes that including Protini Polypeptide Cream in your routine is "like adding a shot of protein to your smoothie." And it seems like fans definitely agree.
Slaai Makeup-Melting Butter Cleanser — 4.7
New this year, the Slaai Makeup-Melting Butter Cleanser has already garnered a 4.7-star rating on Drunk Elephant's website.
B-Hydra Intensive Hydration Serum — 4.7
The B-Hydra Intensive Hydration Serum is another holy-grail product for DE fans: It uses a steady stream of hydrating ingredients to deeply moisturize skin.
C-Tango Multivitamin Eye Cream — 4.7
Yes, vitamin C belongs in your eye cream, too — according to Drunk Elephant's highly rated C-Tango.
Beste No. 9 Jelly Cleanser — 4.7
A Drunk Elephant staple, the Beste No. 9 cleanser has a 4.7-star rating due to its gentle (yet effective) formula.