This Is The Moisturizer That Gives Me Confidence To Go Completely Makeup-Free
Drunk Elephant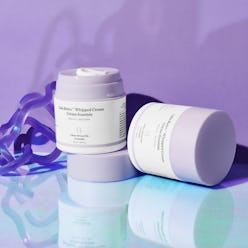 My quest for clear, radiant skin hasn't been the easiest. Accutane, aggressive chemical peels, various types of facials — you name it, I've done it. Though all of these techniques have eventually changed my complexion for the better, I also long for over-the-counter products with gentle formulas to combat the dryness that my combination skin experiences come winter — which is why Drunk Elephant's Lala Retro Whipped Moisturizer will be replacing all of the heavy moisturizers that used to take up space on my vanity.
I find myself reaching for the product, which launched July 2019, both day and night, as the light texture still gives me ultimate hydration. I typically use a penny-sized amount, which is more than enough to cover my whole face. It's the last step in my morning routine, and almost acts as a makeup primer since it gives me a matte finish. Whenever I put my foundation on, I notice how smooth my skin looks and feels — and I experience minimal creasing, too.
At night, after cleansing my face with Philosophy's Purity Made Simple Cleanser, made with 12 essential oils that help strip the day away, I apply a niacinamide serum, like PCA Skin's Vitamin B3 Brightening Serum, to calm my skin. Once I let it absorb, I seal with Lala. And unlike other night creams I've tried, there's no unpleasant greasy feeling. I can confidently say when I wake up my face feels and looks plumper, more hydrated, and radiant.
In fact, I don't even need foundation or concealer these days, and leave my apartment without them often — something I wouldn't have dared done a year ago. Is my skin completely clear? No. I still struggle with acne scars from my teenage years and redness that I've always dealt with, but the results I experience after cleansing are good enough for me. Above, a selfie a half hour after applying the moisturizer. See? The glow-up is real.
If you're wondering if this whipped moisturizer will work with your skin type, Dr. Rachel Nazarian, M.D. of Schweiger Dermatology Group in New York City ensures me everyone can — and probably should — incorporate a products like this into their daily routine. "Although those with sensitive skin, dry skin, or those with eczema may find they have the greatest room for improvement, everyone should be using a daily moisturizer to retain hydration better over time," she explains. "As we age, our skin loses the ability to prevent water loss, and we need a little help to keep the skin healthy."
It's also important to note that this a reformulated version of the line's Lala Whipped Retro Cream, one of its hero products. The difference with Lala Retro Whipped Moisturizer is the inclusion of ceramides AP, EOP, and NP, which are your skin's friend when it comes to patching up dryness — because ceramides are lipids that aid in maintaining the skin's moisture. "They improve the quality of itchy, irritated skin conditions, such as eczema or atopic dermatitis," Dr. Nazarian explains. Lala Retro Whipped Moisturizer also includes a form of hyaluronic acid, which helps draw additional moisture to the skin, along with Mongogo oil, which works well to improve the barrier function of skin and allows it to retain better hydration with continued use, the dermatologist tells me.
But a little bit of patience is required to see results. "It takes time to see maximum efficacy — nothing in skincare works overnight," Dr. Nazarian says. "I recommend waiting at least two weeks to see marked improvement in skin quality, and recommend daily use to retain results long term."
Ahead, shop my new can't-live-without essential — and prepare to fall drunk in love like I did.