Yes, This Serum Is $250 — But It Totally Transformed My Red, Splotchy Skin
Photo: Anna Buckman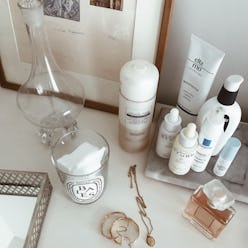 Using washcloths, drinking coffee, and enjoying the great outdoors are just a few of the things that make my sensitive skin turn splotchy and beet red. In other words, basically everything makes my face flare up — which means I spend an unfortunately large part of my life trying to avoid, well, everything. Since I refuse to give up my daily Americano, I've turned to the best products for sensitive skin to help me out. And I've found, after lots of trial and even more error, that a few ingredients help keep my complexion glowing, hydrated, and — most importantly — free of redness.
My number one go-to? Dr. Barbara Sturm's $250 Calming Serum. Yes, it isn't cheap, but I'm here to tell you that this is nothing short of a miracle product in my book. I recently incorporated this into my routine twice a day, and I've seen a dramatic reduction in redness in my skin. Unlike many serums I've tried, my face doesn't immediately change colors when I apply the product. And over the course of a few weeks, a few permanent red patches on my face have all but disappeared.
Thankfully, my other go-to products aren't quite as expensive, but they're just as effective in keeping my sensitive skin happy. I start my routine with Neutrogena's $8.29 Ultra Gentle Hydrating Cleanser, a face wash that Dr. Joshua Zeichner, Director of Cosmetic and Clinical Research in Dermatology at Mount Sinai Hospital, recommended to The Strategist for people with reactive skin. True to its name, it's extremely gentle, and I never look splotchy after I use it.
Once I've applied my beloved Calming Serum post-cleanser, I follow it with Drunk Elephant's B-Hydra Intensive Hydration Serum, which is $52 at Sephora. Then, I seal everything in with EltaMD's Intense Moisturizer for Sensitive, Dry Skin — a $12 product that makes me look like an oil slick upon application, but helps me wake up with dewy skin and no redness in sight (a true feat).
While I've significantly pared down my routine for the most part, there are a couple of others that have earned permanent spots in my medicine cabinet to help keep things under control. Ahead, 10 of the best I've found to keep my sensitive skin happy.
Cleanser
Mask
Exfoliator
Serum
Moisturizer
Sunscreen