How Beauty Editors Pack Their Beauty Products For A Month's Worth Of Travel
instagram.com/aemiliafay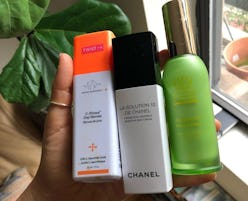 It's no secret that effortless style and beauty actually do require some effort — especially when you're running on three hours of sleep, two Nespresso lattes, and one percent phone battery during the middle of fashion week. And that's just New York. But, alas, there are a handful of editors with a few seasons under their belts who've managed to master the balancing act that is fashion month. Not only are these women pro multitaskers, but they've figured out how to pack enough beauty products and clothes for a month's worth of backstages and front row appearances. Because no serum (or slip dress, for that matter) should ever be left behind.
And while there are plenty of luxury travel-sized minis on the market to take along the way, the editors know that some goods are definitely worth checking. Nikki Ogunnaike of ELLE.com, for example, refuses to chance it with her three-digit Dr. Barbara Sturm goods, and editor Kristen Bateman learned her lesson after losing her luggage in Paris once. That same sense of strategy applies to their fashion month beauty aesthetic, too — while the bold and unapologetic looks are inspiring, sometimes it's just best to pat on a little Glossier Cloudpaint and call it a day.
If packing still eludes you, then let the four editors below walk you through how they make it work — ahead.
Nikki Ogunnaike, Style Director, ELLE.com
Ogunnaike has covered fashion week for for about eight years now. She attends New York and Paris consistently, and has done Milan once.
Her Approach To Packing: "In terms of beauty, I pack a small-but-mighty arsenal of skincare and beauty items I know I won't want to be without. And I leave a little bit of space for anything I may want to pick up on the fly."
Her Fashion Month Face: "I always like to look like a slightly better version of my everyday self if cameras will be around. That means foundation, concealer, blush, bronzer, mascara, and of course, eyeliner. As for my lips, it's a no-fuss gloss or lip pencil I can re-apply with or without a mirror."
The Beauty Products Worth The Checked Baggage Fee: "Dr. Barbara Sturm's whole beauty arsenal is expensive but worth it. I know I'd be pissed as all get out if security tried to chuck it, so I'd be fine with checking my luggage if that were the case."
The Minis That Stay In Her Carry-On: "I always pack Dr. Barbara Sturm's Glow Essentials Kit for skincare, Flesh Beauty stick foundations, and NYX Butter Gloss in a host of colors."
Shop Ogunnaike's Essentials:
Faran Krentcil, Contributing Editor, ELLE.com
The first time Krentcil did the whole circuit — New York City, London, Milan, and Paris — was five years ago, but she's been covering New York and London for closer to ten.
Her Approach To Packing: "I'm a very tight packer — I'm the type of girl who rolls tights and jewelry pouches into my boots to save space — but I'm also cool with remixing as long as I love [my look]."
Her Fashion Month Face: "The dirty secret is if you're backstage at a fashion show, you probably got there at sunrise. Call times are so early, and there isn't tons of time for experimentation in front of the mirror — at least if you value your sleep. (I do!) Plus, you're running to five other shows every day and often overheated in packed cars or crowded show venues. A look that can't breathe, like a smoky eye or a spider lash, is going to get in your way.
"My approach is to get my s--t together before I even leave. A week before Fashion Week, I visit my colorist (Tia Martinez at Varin Salon) for a touch-up and an Olaplex mask. I'll get a dip powder manicure, too. Then once I'm in Europe, I'll usually stick with the basics — a few drops of Urban Decay's insanely perfect Stay Naked foundation, Flesh Glisten Drops on my cheekbones, some Pat McGrath mascara, Glossier Boy Brow, and a Clarins lip stain because it lasts all day and looks natural. Oh, and if I need a pick-me-up (besides espresso), I use the glitter shadow from Stila, because it takes two seconds and it's a little bit hippie glam — less Euphoria and more Fleetwood Mac. My hair is naturally curly so I often wear it loose and long, though a tight and high ballet bun with a thin headband and huge earrings is fun, too."
The Beauty Products Worth The Checked Baggage Fee: "Last month, my dermatologist asked when I started Botox. But I haven't — I just started using Kate Somerville Retinol Vitamin C+ Moisturizer! It's a must-pack, always. I use Playa Endless Summer Spray instead of hairspray to keep my curls loose but defined. Plus, it smells amazing. They use Redken Extreme Strengthening Conditioner backstage in all four cities because it's the best for all hair types, so naturally, I stan. Tata Harper Regenerating Cleanser is super gentle but so effective for getting clean and glowy every morning and night. And Byredo Sundazed perfume smells like home."
The Minis That Stay In Her Carry-On: "Lucas Paw Paw Ointment to prevent dry skin and lips in-flight. I'm also obsessed with Prima's R & R cream, which is a CBD body balm for tight or sore muscles. I rub it into my calves and the small of my back before I board the plane — I swear, it helps me sleep."
Shop Krentcil's Essentials:
Kristen Bateman, Freelance
Bateman has been covering fashion month for a little under four years. She always covers New York and covers Paris four times a year (ready-to-wear and Couture Week). In addition to that, she always ends up going to a couple off-the-radar fashion weeks such as Budapest, Kiev, or Moscow.
Her Approach To Packing: "I'm a notorious over-packer and believe more is more. I'd rather have too much of something than not enough. I also try to squeeze as much into my carry-on as possible — at least two days' worth of outfits with shoes, bags, accessories and beauty products — because one time an airline lost my luggage right before Paris Fashion Week and it was a nightmare.
"In terms of beauty, it's not uncommon for me to bring literally 20 lipsticks, 15 eyeliners, and two giant palettes with me. I usually end up bringing just one extremely large checked bag and a stuffed carry-on, using packing cubes to maximize the space."
Her Fashion Month Face: "As cheesy as it sounds, I get extremely inspired by all the editorial beauty looks during fashion month. I try to take inspiration from some of the wilder looks on the runway and make them a bit tamer if they're really extreme. But I'm also not opposed to wearing three different colored eyeliners at once and multiple layers of glitter as a highlighter. I'm also usually working extremely long hours and sometimes unable to touch up my makeup for, like 10 hours. So a good setting spray and a translucent powder are absolutely essential for me while attending the shows."
The Beauty Products Worth The Checked Baggage Fee: "Urban Decay All Nighter Long Lasting Makeup Setting Spray has been my go-to for as long as I remember, because it works. I go through a full-sized bottle every month. I also love REN's Clean Screen Mattifying Face Sunscreen SPF 30 for the texture. I'm addicted to Dr. Barbara Sturm Hyaluronic Serum and Face Mask to hydrate and calm my skin immediately after the long haul flights. In terms of makeup, I love Dior's Diorshow On Stage Liquid Eyeliner in every shade of the rainbow and I also usually end up bringing at least one Anastasia Beverly Hills eye palette."
The Minis That Stay In Her Carry-On: "Lately, I always find myself bringing the Côte TakeOff Towels, Byredo hair perfumes (love Gypsy Water), Bumble and bumble Pret-a-Powder Dry Shampoo, Dr. Barbara Sturm Glow Drops, and Omorovicza Instant Plumping Mask minis with me!"
Shop Bateman's Essentials:
Aemilia Madden, Senior Fashion Editor, The Zoe Report
Madden has covered fashion month for about four years now. This fall will be her third time in Milan and second time in Paris.
Her Approach To Packing: "I don't want to reinvent the wheel when I'm traveling since I'd rather save my suitcase space for clothes. I stick to the beauty I know I'll use almost every day. Skin is my priority, especially since flying tends to be rough on my dry skin. I'll pack one bold eyeshadow palette or liner stick for the days when I want to mix things up, but otherwise, I keep my kit pretty simple."
Her Fashion Month Face: "My goal is to look like myself on a good day — even when I've been up all night writing and I'm running on a few hours of sleep. I never go for a full-on face, but a few small additions — a swipe of blush, lash-boosting mascara — make a huge difference."
The Beauty Products Worth The Checked Baggage Fee: "Traveling with great moisturizer is a must. Tata Harper, Drunk Elephant, and Chanel's La Solution 10 Sensitive Skin Cream are favorites. Also, sunscreen is always worth it — I bring Supergoop! along with me no matter where I'm traveling to."
The Minis That Stay In Her Carry-On: "Caudalie face mist!"
Shop Madden's Essentials:
Tahirah Hairston, Fashion And Beauty Features Director, Teen Vogue
Hairston has covered fashion month for several seasons and was most recently at Paris Fall/Winter 2019.
Her Approach To Packing: "I used to be the person who could never bring travel-sized toiletries, but in the past few years I've really tried to narrow down that whole routine."
Her Fashion Month Face: "The theme of my [beauty] bag is hydration. I like to go on serum overload when I travel because I never know how my skin is going to react."
The Beauty Products Worth The Checked Baggage Fee: "Lotion is actually hard to pack travel-sized. I don't like to be ashy (it's literally my worst fear), especially during fashion week!"
The Minis That Stay In Her Carry-On: "I love bringing these M-61 pads with me. They are so easy to travel with and I can plan out exactly how many I need instead of bringing a whole bottle or a jar of product with me. Plus, anytime I use them before a dinner or show, it looks like I got a mini-facial.
"If I don't have the pads, then I'll bring a travel-sized Biologique Recherche P50 with me, which lasts for such a long time. I once went to Europe for two weeks and still had so much product left.
"I always bring a ton of wipes (I love Lauren Napier's Flaunt, both for my face and to wipe down the plane when I board à la Naomi Campbell). I also love to cleanse with my travel-sized Everyday Oil, a great two-for-one. All of my other cleansers are way too big to bring."
Shop Hairston's Essentials: