How Drunk Elephant's New Cleanser Leaves Behind The Perfect Dewy Glow
Drunk Elephant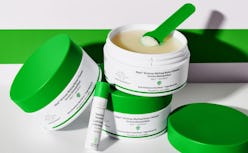 If beauty products win points for names, Drunk Elephant's Slaai Makeup-Melting Butter Cleanser just scored a touchdown. (Does that sports metaphor make sense? Moving on.) Fortunately, the new cleanser is way more than its catchy, hashtag-ready name — Drunk Elephant's latest release actually slays, too. Besides cleansing your skin, the game-changing butter removes makeup, exfoliates, and moisturizes, leaving behind a fresh, hydrated glow after you wash it off.
And no, it won't cost you an arm and a leg. A 3.88-ounce container of the multi-purpose product retails for just $34 on Drunk Elephant's website, easily making it one of the best new bargains in skin care when you consider all its uses. The cleanser also comes with a tube of Drunk Elephant's Bamboo Booster, which gives the oil-to-milk formula its exfoliating prowess; you mix the tiny bamboo and charcoal spheres into Slaai when you want to boost its skin-refining ability and slough away dead skin cells.
"I really wanted something that fit in with my philosophy and that would melt off my eye makeup, so I developed #Slaai. You wanted it too, so it was time. It took forever!" Drunk Elephant's founder Tiffany Masterson wrote in an Instagram post. "Slaai contains incredibly mild, moisturizing plant oils and plant-derived cleansing agents that melt all traces of dirt, sunscreen and makeup (including water-resistant) from skin. It's designed to do its job without disturbing your acid mantle — which is really important to me. Slaai keeps the skin barrier healthy and intact — and also leaves a little something behind when it's done."
Wondering how a cleanser can actually help your skin glow? Slaai contains a "nourishing fruit salad blend" (hey, Slaai is the Afrikaans word for "salad", after all). The blend contains blueberry, kiwi, and strawberry extracts, as well as cranberry seed, acai fruit, and watermelon seed oils. Slaai also is formulated with other nutrient-rich oils like Dermatologist-approved marula seed oil. So even after you rinse it off, trace amounts of Slaai's skin-loving ingredients linger, rejuvenating and moisturizing skin.
Slaai is still relatively new, but there are already a few glowing reviews on Sephora's website and dotting Drunk Elephant's Instagram posts. As they say though, the best way to see if a product is right for you is to try it out for yourself — though if it's Drunk Elephant skin care, you can basically count on falling in love with it. Ahead, Drunk Elephant's new Slaai cleanser.