Dirty Lemon's New Aloe Vera Drink Might Replace My Favorite Moisturizers
Dirty Lemon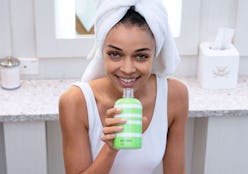 Dirty Lemon, the beverage brand best known for making "anti-detox" a thing (think: cleansing charcoal water paired with pepperoni pizza), recently introduced the 11th flavor in its collection, +aloe. The aloe- and coconut-infused mix is meant to evoke the taste of a virgin mojito while moisturizing skin from within... so, basically, it's the perfect summer drink. Because I *needed* to try a bottle (or six) the moment it launched, I invited a friend to attend the release party with me. She had two questions: "Where should I meet you? And does Dirty Lemon really work?"
Read more: The Benefits Of Lemon Water For Skin Include A Brighter, Clearer Complexion
The answer to the latter, for me at least, is a resounding yes. I developed a slight obsession with Dirty Lemon's ingestible +retinol formula earlier this year — as someone whose skin is too sensitive to handle topical retinol, it was an anti-aging dream come true — and had a good feeling about its newest concoction, too. To prove my point to my BFF, and also the world, I thought I'd conduct a selfie-filled (and totally non-scientific) experiment. The first step: Managing expectations by asking a few of my favorite dermatologists about +aloe's purported benefits.
According to Dirty Lemon, drinking +aloe is almost akin to slathering aloe gel on your face — the press release states it "hydrates, cools, and soothes summer skin" — just, you know, less goopy. "Hydration is extremely important to overall health, including skin health," Dr. Loretta Ciraldo, the founder of Dr. Loretta Skincare, tells The Zoe Report. "When we are dehydrated, our skin loses it luminosity and elasticity. But the good news is that keeping well hydrated makes our skin look firmer." While she says that +aloe probably doesn't hydrate any better than plain old water, she notes that the ingredients inside (aloe vera, coconut water, lucuma) do bring other beauty benefits to the table.
In a 2009 study on the effects of ingesting aloe, aloe vera supplementation was shown to be great for "boosting hydration and stimulating collagen," says Dr. Loretta. Other clinical studies have found that aloe's bioactive compounds "stimulate the receptors found in fibroblast cells which produce collagen and elastin fibers, yielding a more elastic and less wrinkled appearance," Dr. Laurie Brodsky, N.D., a medical advisor for Dirty Lemon's parent company, Iris Nova, explains to TZR. She adds that aloe also contains a type of sugar, mucopolysaccharide, that works to bind moisture to the skin.
The supporting players in +aloe take this hydrating, plumping effect to the next level. "Coconut water is rich in potassium which is an electrolyte that helps you to retain more water," Dr. Loretta says; while Dr. Brodsky claims lucuma (a Peruvian fruit similar to avocado) contains "specialized fatty acids which promote skin regeneration."
With all that in mind, my expectations were high.
The plan was to down one Dirty Lemon +aloe per day for six days. (The bottles are only available in a six-pack, hence the timeline.) But my experiment spun out of control on day two when I allowed my husband to take a sip… and he loved the minty-lime taste so much he was inspired to make us midday mixed drinks. We wasted all of Saturday — and two bottles of +aloe — day-drinking homemade "mojitos."
Getting my hands on more Dirty Lemon was easy enough; I just texted them and two days later, three cases of +aloe, +charcoal, and +rose showed up on my doorstep. (This isn't fancy beauty editor treatment, either — the brand takes orders via text and offers two-day shipping.) But sadly, spending one whole day of the experiment sipping rum didn't do me any favors on the hydration front. Alcohol is dehydrating, messes with sleep, and raises cortisol levels… so, decidedly not good for skin. But since +aloe is extra-hydrating, I figured it probably cancelled out the effects of the rum... right?
First thing Monday morning, I found myself pressed up against the bathroom mirror, inspecting the weekend's results. Were my eye crinkles softer? Was my forehead's single wrinkle… gone? Was my skin as plump and smooth as I thought it was? In person, I was convinced all of the above actually happened; but looking at the pictures, I can admit there wasn't much of a day-to-day difference between day one and day four. That's to be expected. "Results can typically be seen from two to three weeks," Dr. Brodsky says.
Day five, though… man. I'm tempted to write that this is when my skin "magically" started looking clearer and glow-i-er, but it wasn't magic. Just +aloe. (My Day 6 selfie *does* include a little blush and mascara. But that glow? All due to hydration. And good car lighting.)
Don't take my word for it, though. The study Dr. Loretta mentioned (which is unaffiliated with Dirty Lemon, by the way) concluded that daily intake of aloe vera "significantly improves wrinkles and elasticity, with an increase in collagen production in the photoprotected skin and a decrease in the collagen-degrading MMP-1 gene expression." Translation: fresh, firm, healthy skin.
Of course, those results are based on a 90-day trial — roughly the length of the entire summer. You know what I'll be sipping on until September.
Buy +aloe