Here's Where To Buy Diptyque's Cult-Favorite City Candles This Year (Because Yes, They're Returning Again)
Oliver Knight/Shutterstock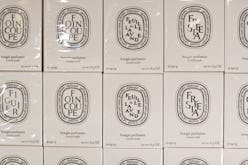 The world's most major cities are bustling metropolises brimming with culture, and if you consider yourself a jet-setter it's safe to assume you've got at least a couple of them on your travel bucket list (or maybe you've already checked several off). But what if someone told you that you could bring just a bit of your whirlwind trip to Shangai, Berlin, or Paris back home with you? That's the whole idea behind diptyque's City Candles, which seek to encapsulate the unique spirit of some of the world's most stunning spots — and they're about to be available online for a very short five-day period, so get ready to shop.
Cult-loved French luxury brand diptyque is known for its incredibly aromatic candles that somehow manage to elevate an entire space with a single whiff (plus they look so good on a vanity or shelf). But did you know that part of its extensive collection included city-specific scents from places near and far? Its Hong Kong, Paris, Berlin, New York, Miami, Beverly Hills, Tokyo, Shanghai and London candles were expertly crafted to evoke each city's aura. But usually, they're only up for grabs at boutiques in the city they're named after.
From Sept. 12 through Sept. 16, however, diptyque is giving shoppers a chance to score all nine of the candles online and in most diptyque storefronts so you can experience your favorite global destinations without depleting your savings account with a round-trip plane ticket. The five-day period is the second time the brand is holding this special shopping event but there's no guarantee it'll happen again, so don't hesitate to get your hands on them.
Looking to reminisce on your time spent strolling down Rodeo Drive? The Beverly Hills candle evokes the city's palm tree-lined streets and lush gardens with notes of white flowers, mint, and lemon. Dreaming of a romantic getaway to the City of Lights? diptyque's Paris candle drops you right into charming and chic Saint Germain district with chypre and hints of lavender. Got your sights set much further to the east? Snag the Shanghai candle for green tea notes that reflect traditional Chinese tea ceremonies, or Tokyo to be transported to the city's bustling streets and historic temples with scents of Japanese cypress and incense.
Each candle also comes in its own unique packaging with colors and illustrations that highlight the notes you'll detect once the candle's lit — Miami's candle, for one, features a design of tropical leaves against lime green glass, calling to mind the spot's exotic flora as well as key lime pie, the famous Floridian dessert.
No big travel plans on the horizon? No problem. Simply shop diptyque's City Candles the moment they land on Sept. 12 and it'll seem as if you've just booked a first-class flight from your living room.